It has always been a question of timing when it comes to orthodontic treatment. The more you delay, the harder it is to correct problems such as jaw growth, malocclusions, and baby teeth removal. As a result, millions of American tweens and teens wear various appliances (e.g., braces and aligners) to correct their orthodontic problems from an early age.
Today, it's all about catching the culprits upsetting your healthy smile at a young age with the best early treatment plan possible. That is why Patuxent Orthodontics offers interceptive orthodontic treatment to children and teenagers alike! The time has come for your child to say goodbye to their dental problems and welcome their sparkling permanent teeth!
What is an Interceptive Orthodontic Treatment?
Often called early orthodontics, interceptive orthodontic treatment addresses problems that a child or teenager might have before their permanent teeth emerge. In addition to identifying orthodontic issues and treating them, interceptive orthodontics can be used to extract baby teeth in preparation for the child's permanent teeth. It is optimal to undergo such treatment in childhood (i.e., when facial and jaw growth is still occurring). Oral health hazards can be solved right off the bat with prompt action before they become more challenging to treat and more expensive!
Why is the Age of 7 the Right Moment for Interceptive Orthodontic Treatment?
Your child's first adult molars will have already erupted by the time they turn 7. This age is an excellent opportunity for Dr. Lee to assess the relationship between your child's front and back teeth, as well as their top and bottom teeth.
Additionally, he will be able to interpret the signs of how your kid's teeth will develop in the future. Erupting incisors indicate potential issues such as crowded teeth, overbites, and gummy smiles.
In each stage of your child's orthodontic treatment, Dr. Lee ensures that their incoming permanent teeth radiate confidence and beauty!
Does My Child Need Interceptive Orthodontics?
Your child or teenager's first orthodontic evaluation will determine if they can benefit from early orthodontic treatment. Again, it comes down to reading the appropriate signs. That's why Dr. Lee will thoroughly examine your child's oral cavity; signs like improper jaw development indicate that interceptive treatment is needed. Approximately 15-20% of children need help to ensure proper tooth development. Oral health always precedes aesthetics when it comes to your child's smile!
Among the other signs that call for early treatment are:
Injury risks increase when your child's teeth protrude;
Baby teeth that fall out early can cause the surrounding teeth to occupy the space and prevent permanent teeth from developing.
The crowding of teeth prevents permanent teeth from properly erupting (e.g., a permanent tooth occupies a larger space than a baby one).
Finger-sucking habits cause a variety of bite issues (e.g., anterior crossbite, posterior crossbite, etc.).
The Different Types of Interceptive Orthodontics
Dr. Lee will recommend and implement the optimal orthodontic treatment after identifying the culprits behind your kid's improper oral health.
#1: Palatal Expanders for Proper Jaw Growth
In early orthodontic treatment, the most common appliance is the palatal expander. Unfortunately, there are some children whose upper teeth cannot erupt because they do not have enough space. Overcrowded teeth and, of course, various orthodontic issues will result from a narrow upper palate unless treated promptly.
A palatal expander is an orthodontic appliance designed to widen the upper palate before the upper jaw bones fuse together (i.e., after puberty). The device, composed of two sides connected by a screw, gently pushes the jaw bones apart, allowing permanent teeth to emerge more easily. As a result, a new generation of bone cells fills the gap, facilitating expansion without causing discomfort.
Dr. Lee will determine whether tooth extraction is still necessary after 6-12 months of your child wearing the palatal expander.
#2: Space Maintainers
Does your kid already have enough room for permanent teeth to erupt? That's great to hear! Nevertheless, they might need some help preserving that space. This is where space maintainers come into play.
A space maintainer is an orthodontic appliance that ensures a healthy space for adult teeth to erupt. For example, when a baby tooth falls out or is removed prematurely, Dr. Lee uses a space maintainer to prevent the surrounding teeth from occupying the space. In this way, the permanent tooth can erupt safely in its intended location without being overcrowded!
#3: Malocclusions
Malocclusions occur when teeth or jaws are misaligned, a common orthodontic problem among young patients. It has been found that untreated malocclusions eventually lead to various oral health problems, including crowded teeth, tooth decay, gum disease, protruding teeth, and open bites. Besides affecting oral aesthetics, malocclusions can also affect how your child chews food and cleans their teeth. Therefore, an orthodontic treatment plan will be implemented swiftly to remedy any issues that point toward malocclusion.
#4: Baby Tooth Extraction
The age of 6 is the appropriate time and place for baby teeth to fall out. After all, they are merely placeholders until the permanent teeth emerge. However, what if a baby tooth remains? In orthodontics, it is generally accepted that the more baby teeth persist, the more they will interfere with permanent teeth eruption, creating a long-term orthodontic problem, especially for the canines.
Dr. Lee uses X-ray technology to determine whether your child's canines will become impacted in the future and recommends tooth removal to prevent it!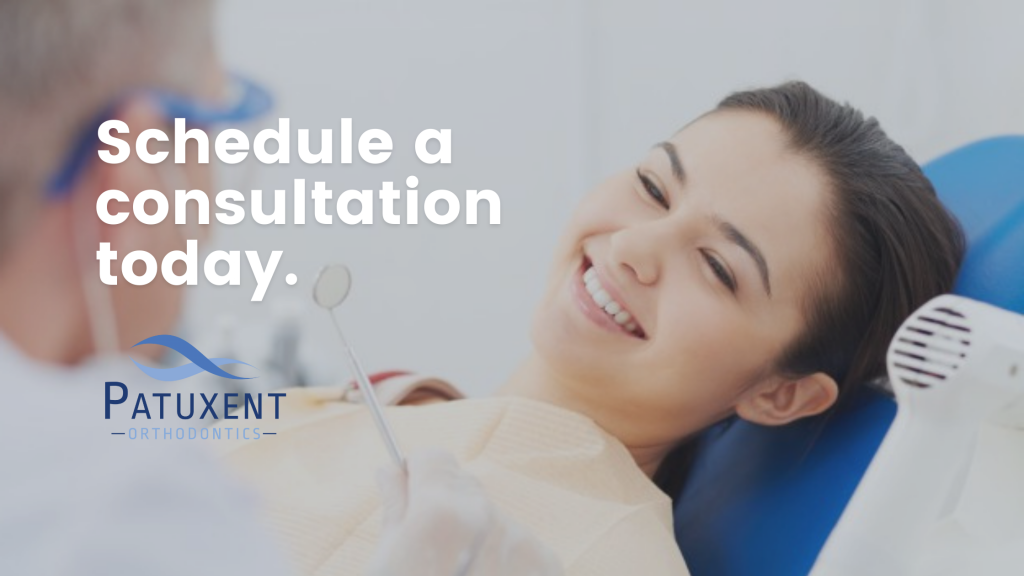 Start Your Child's Interceptive Orthodontic Treatment at Patuxent Orthodontics!
Contact Patuxent Orthodontics if you think that interceptive orthodontics may be a solution to your dental woes. Whether you want to learn more about the benefits of interceptive orthodontics or simply have questions about the process, use our live chat or call (240) 802-7217 or send us a message through our Contact Us page to connect with our friendly staff today to book a free consultation! Our office, located at 44220 Airport View Dr., Hollywood, MD 20636, proudly serves Maryland's Patuxent area, as well as the Greater Washington DC area. So, if you're residing in Hollywood, Wildewood, or Leonardtown and are looking for one of the best orthodontists in Maryland, don't hesitate to visit our office! We also invite you to keep up with our blog to get answers to many of the frequently asked questions about maintaining sparkling oral health and follow us on Facebook and Instagram to become a part of our smiling community!
References
Interceptive Orthodontics, www.deardoctor.com/articles/interceptive-orthodontics/. Accessed 15 Nov. 2022.
"What Is Interceptive Orthodontics and How Does the Process Work?" Hawley Orthodontics, www.hawleyorthodontics.com/what-is-interceptive-orthodontics/. Accessed 15 Nov. 2022.