Are you dealing with oral health issues only braces can solve? You're not alone. Over 4 million Americans are wearing braces at any time, and almost 50% of the population needs orthodontic treatment to treat functional issues of their teeth.
But the thought of braces treatment is only appealing to some potential patients. Just the thought of wearing such orthodontic appliances for years on end, coupled with the routine visits to the orthodontist and the obvious aesthetic deterrent, is too much to handle. So there's no surprise that some people seek to bypass this inconvenience and skip straight to wearing retainers.
But are retainers enough to restore proper alignment to your teeth? Here at Patuxent Orthodontics, we encourage the use of retainers only for correcting minor issues. They may surpass traditional braces inconvenience but not always in effectiveness.
Retainers work by applying gentle pressure to the teeth to move them into the desired positions. Teeth tend to shift back to their original spots after brace removal because the bone and tissues holding the teeth in place need time to adjust to their new positions. Retainers hold the teeth in place while the surrounding tissues adjust — a process that can take several months.
Retainers can also correct minor alignment issues, such as crowding or spacing. In this case, the retainer applies pressure to the teeth to move them into the correct position. Over time, your teeth will gradually shift into the desired position, resulting in a straighter smile.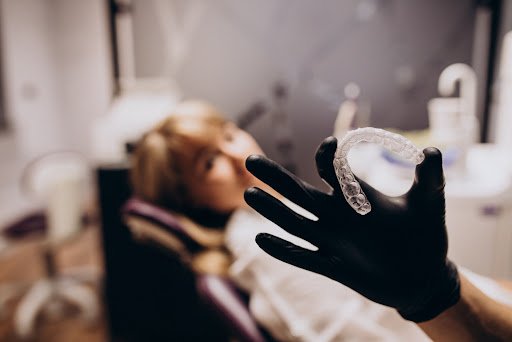 We Offer a Variety of Retainer Options at Patuxent Orthodontics!
Every patient exhibits unique orthodontic issues manageable only with specific tools. Here at Patuxent Orthodontics, we offer a variety of retainers to cover all of our patients' dental health issues! Based on your goals and circumstances, our expert orthodontist, Dr. Richard J. Lee, DMD, will recommend regular (e.g., Hawley, Essix, or Vivera), permanent, or clear aligners!
Hawley Retainer
For decades, Hawley retainers have been favorites among orthodontists. They consist of a thin wire that runs across the front of the teeth, which is attached to a plastic or acrylic base that sits on the roof of the mouth or behind the lower teeth. The wire holds the teeth in their new position while the base of the retainer helps keep the device in place.
Hawley retainers are highly customizable and can be adjusted to fit each patient's teeth. They can also be personalized with different colors or patterns on the plastic base!
Essix Retainer
Essix retainers are made of clear plastic and fit snugly over the teeth. They are less noticeable than Hawley retainers and are often preferred by patients seeking a more discreet option. They are also easier to clean than Hawley retainers, as they can be removed and rinsed under water.
While Essix retainers are less noticeable than Hawley retainers, they are less durable. The plastic material can crack or break over time, prompting more frequent replacements.
Vivera Retainers
Vivera retainers are designed to maintain the alignment of teeth following orthodontic treatment. They are created using advanced 3D imaging technology, which allows for precise measurements and a comfortable fit! 
Vivera retainers are made from a high-quality, durable material that is resistant to cracking and breaking for an extended period of time (30% stronger and two times more durable than your standard options!). In addition, they are virtually invisible when worn, making Vivera a popular choice for people who want to maintain their beautiful smile without worrying about aesthetic issues.
Fixed Retainer
Fixed retainers, also known as permanent retainers, are attached to the back of the lower teeth with a thin wire. They are designed to stay in place permanently, which means patients can forget about remembering to wear them each day!
Fixed retainers are typically used for patients with significant orthodontic treatment or who show a high risk of their teeth shifting back to their original position.
Clear Retainers
Clear retainers — such as SPARK and Invisalign — are a type of orthodontic retainer that is commonly used to maintain the position of teeth after braces. They are made of a transparent, plastic material that is custom-fitted to the shape of the patient's teeth and is designed to be worn over the teeth, usually at night, to help prevent them from shifting back to their original position. They are typically more comfortable and less noticeable than traditional wire and acrylic retainers.

Can I Get a Retainer Without Braces?
The success of your orthodontic treatment depends upon matching your desired results with the right tools. Therefore, in theory, wearing a retainer without dental braces can be enough to correct misaligned teeth and other orthodontic issues. In fact, many orthodontists already prescribe permanent or removable retainers to straighten teeth without braces, but only for mild misalignments. Unlike braces, retainers are not adjustable, a disadvantage that makes them unfit for complex tooth movement.
Another popular application for retainers without braces is correcting tongue thrusting issues (i.e., when the tongue pushes against the front teeth when talking or swallowing). The slight misalignment caused by the repeated force applied to the teeth can be addressed with removable or permanent retainers, which force the tongue to stay in the center of the mouth.
Likewise, a retainer can address mildly misaligned teeth in a child's mouth caused by thumb sucking by discouraging this harmful habit altogether.
When is It Not Enough to Wear a Retainer?
Dental retainers are typically used as a follow-up treatment to braces to help maintain the results achieved during the active orthodontic treatment. While retainers can prevent teeth from shifting back to their original spots, they are generally not a substitute for braces in cases where significant tooth movement is needed to correct a bite or alignment issue.
That is because the materials used in producing a retainer are not sturdy enough to realign multiple crooked teeth simultaneously — it can only maintain the new position of the teeth or, at best, slightly straighten your teeth.
In conclusion, only a skilled orthodontist can tell whether your oral health issues are fixable with braces, retainers, or a mixture of the two. Just a quick consultation with Dr. Lee, and you'll be one step closer to enjoying your very own perfectly aligned smile!

Start Your Orthodontic Treatment at Patuxent Orthodontics!
Contact Patuxent Orthodontics if orthodontic treatment is the solution to your dental woes. Whether you want to learn more about the benefits of orthodontic treatment or have questions about the process, use our live chat or call (240) 802-7217 or send us a message through our contact us page to connect with our friendly staff today and book a complimentary orthodontic consultation! Our office, located at 44220 Airport View Dr., Hollywood, MD 20636, proudly serves Maryland's Patuxent area, as well as the Greater Washington DC area. So, if you're residing in Hollywood, Wildewood, or Leonardtown and are looking for one of the best orthodontists in Maryland, don't hesitate to visit our office! We also invite you to keep up with our blog to get answers to many of the frequently asked questions about maintaining your perfect smile and follow us on Facebook and Instagram to become a part of our smiling community!
References
"Can Retainers Fix a Slight Shift of Teeth?: Fast Facts 2021." Nashville Orthodontist TN, joelgluck https://www.drgluck.com/wp-content/uploads/2020/09/logo-drGluck-orthodontics.png, 7 June 2021, www.drgluck.com/can-retainers-fix-a-slight-shift-of-teeth-after-braces/.

Accessed 15 March 2023.

"Can You Get a Retainer without Braces?: Kumra Orthodontics." Kumraortho, 1 Feb. 2023, kumraortho.com/blog/can-you-get-a-retainer-without-braces/.

Accessed 15 March 2023.

"Can You Straighten Teeth without Braces?" The Neem Tree, theneemtree.co.uk/blog/health-tips/straighten-teeth-without-braces/#You_may_need_to_wear_braces. Accessed 15 Mar. 2023.
What Percent of the Population Gets Braces?, www.calendar-canada.ca/faq/what-percent-of-the-population-gets-braces. Accessed 15 Mar. 2023.