It is a universal truth that we all cherish food, one way or another. Whatever the case may be, whether hiding away our secret candy stash or munching on healthy greens, we can never give up on the love of food. Eating our favorite foods brings us great satisfaction and joy no matter the situation.
You may now be contemplating orthodontic treatment like braces to improve your dental health and confidence. Good for you! However, before you decide on braces, you may be wondering, "What about food? Will I have to give up certain foods in order to maintain a beautiful smile?" These questions can seem overwhelming at first, but we're here to help.
The Patuxent Orthodontics team believes that there must be a price to pay with any significant health benefit. So, regardless of whether you spend your time running outside or at the gym or whether you say "no" to excessive fast food, we must all do our part to improve our health.
The same principles apply to straightening teeth. That's not to say that this is a bad thing at all! You'll indeed have to pay more attention to what you eat. However, you will also get to experience or create new and exciting dishes that won't harm your braces in any way.
Our team of experts is here to help you learn about "the perfect food" for your braces!
Eating with Braces
You may be wondering what types of foods are best to keep your braces clean and your teeth in good condition. Unfortunately, there is no perfect food for braces; somehow, some foods always find their way in among the wires and brackets. Furthermore, certain foods can damage and break rubber bands or the brackets themselves. 
We recommend that you follow a few general guidelines to ensure that you are eating right while wearing braces.
Why Eating the Wrong Foods with Braces Is Bad?
People believe that eating with braces has only minor consequences, such as an unattractive smile or tooth damage. However, these are not the only consequences involved. Foods and drinks containing sugar and starch will damage your teeth and brackets and increase the chances of plaque and bacteria building up around your braces, leading to decay, cavities, and gum disease. These issues result in expensive dental bills and additional worries for your overall health. As a result, it is essential to know what you should avoid.
The "A-Okay" When You Have Braces List
We have already mentioned that there is no perfect food for braces. But that doesn't mean you have to give up all your favorite foods. These days, you can get your favorite foods in various ways. 
Fruit, such as bananas, watermelon, & strawberries;
Hummus;
Hard-boiled eggs;
Omelets;
Pizza (without the crust);
Grilled chicken or fish;
Rice and beans;
Vegetables, such as green beans, carrots, and celery (cooked);
Pasta with tomato sauce.
It is always a good idea to consult your orthodontist if you're unsure whether or not certain foods are safe for you to eat.
If you keep these guidelines in mind, you can still enjoy many of your favorite meals; you just have to be a little more creative in preparing them. We like to think of it as your new journey into the world of food connoisseurs.
Drinks You Can Have with Braces
There are certain foods that you can't consume while wearing braces, but that doesn't mean you have to consume water or juice for the rest of your life! The following are some examples of food & drinks you can enjoy (and how to enjoy them):
Soda with no solid ingredients (popsicles, ice cubes);
Milkshakes with crushed ice (you can even make them at home!);
Coffee (with cream & sugar only);
Tea (without the bag);
Apple Juice, cranberry juice, grapefruit juice, orange juice;
Sports drinks without pulp or high-fructose corn syrup;
Soup (consume with a spoon, not a straw);
Water (Duh!).
Make sure you're drinking enough water as well! In addition to promoting good oral hygiene, it keeps your braces in good shape.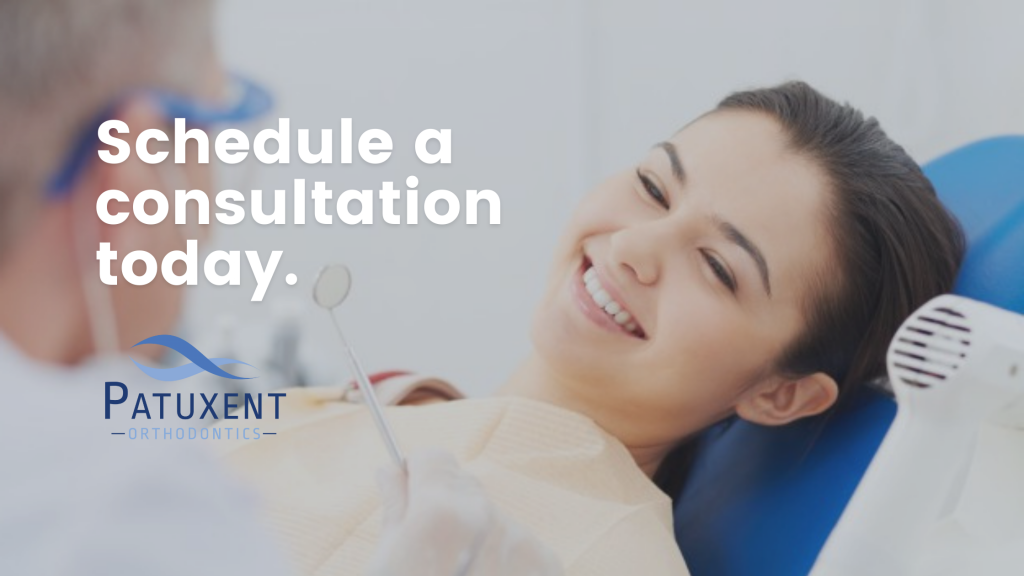 Choose Patuxent Orthodontics for Your Orthodontic Treatment!
We hope that this article helped clear up some of the confusion regarding the "perfect" food for braces. We at Patuxent Orthodontics are proud to offer you our cutting-edge technologies in the area to help you achieve that beautiful smile you've always wanted. 
Why not start your teeth-straightening journey today by contacting us? Contact us today to schedule a free, easy consultation at our friendly office in Hollywood, MD! Keeping up with our blog will also enable you to get answers to many frequently asked questions about maintaining excellent oral health!