Many people take advantage of dental bridges to maintain a normal set of teeth with minimal dental complications. Missing teeth can result in various dental issues, which call for dental bridges. In some cases, orthodontic treatment may be able to replace a need for dental bridges while creating space for your general dentist to perform restorative treatment using a dental bridge. So, let's talk about dental bridges, the types of dental bridges, how they work, and how much they cost.
What Are Dental Bridges?
With a dental bridge, you can fill the gap left by missing teeth with an artificial tooth. An artificial tooth implant is known as a pontic and can be made using various materials such as gold, palladium alloys, chromium, or nickel. However, most dentists recommend using a dental bridge out of porcelain because it looks identical to your natural teeth and provides a glass-like whiteness like natural enamel. Porcelain is also very sturdy and easy to mold.
Dental Bridge Types
An examination by your general dentist will determine what type of bridge is best for you. There are four types of dental bridges with varying options based on the patient's aesthetic needs and budget.
#1: Traditional Dental Bridge
A traditional dental bridge is the most common type of the four available dental bridges, and they're ideal for patients who still have natural teeth on both sides of their mouth but are missing a tooth. Traditional dental bridges consist of a false tooth held down by dental crowns that are cemented on each other. A dental crown needs to anchor down on the false tooth while closing the gap. The most beneficial aspect of having a traditional dental bridge is its unmatched durability. However, your adjacent teeth may need revisions for a seamless operation.
#2: Cantilever Bridge
The Cantilever dental bridge differs from traditional bridges because the false tooth is anchored down to one tooth by cement. The Cantilever dental bridge is mainly used in the front teeth because this type of dental bridge can cause a lot of pressure on a single tooth when positioned behind your mouth. Getting this type of dental bridge may require removing enamel from your supporting tooth to improve stability.
#3: Maryland Bonded Dental Bridge
A Maryland bonded bridge has a similar structure to a traditional dental bridge. However, instead of utilizing dental crowns, this type of bridge uses a metal or porcelain framework for the anchor, which minimizes the need to have your adjacent teeth altered as it is attached at the back of your teeth. You may only qualify for a Maryland bonded bridge if you have a natural tooth on both sides of the gap.
#4: Implant-Supported Bridge
Dental implants are installed, unlike crowns or frameworks. Implants are affixed using a dental bridge surgical procedure and can be used in any mouth area, unlike Cantilever bridges.
Implant-supported bridges are dental bridges that work without needing support from adjacent teeth, thus making them beneficial for people with more significant gaps between teeth–especially those with several missing teeth. In addition, implant-supported bridges are known for their sturdiness, solidity, and durability. Even so, it's important to note that even with its remarkable benefits, the downside of this bridge is the required surgical procedures and a lengthy recovery period.
What Is the Average Cost of a Dental Bridge?
After seeing the differences between the different dental bridges, you may wonder how much they cost. A survey shows that dental bridge costs range between $1,500 to $5,000, depending on the type suited for you. Moreover, traditional bridges range between $2,000 to $5,000 while Maryland bridges are between $1,500 to $2,500.
The Difference between Dental Bridges and Dental Implants
You may be confused by dental bridges and dental implants, as both are used to replace missing teeth. Don't fret–we're here to help you! Dental bridges are fake teeth that are permanently installed to adjacent teeth, and they'll last you for about 10-15 years. On the other hand, dental implants are permanent fake teeth that you need to undergo oral surgery for. Dental implants need to be placed in the jawbone and require months to heal completely. However, they can last you a lifetime if you take care of them properly.
The Benefits of Dental Bridges
No one would deny the enormous benefits of dental bridges on the medical and aesthetic fronts. Here are some of the key advantages of dental bridges:
They bring back your natural jawline: Teeth gaps can create a distorted mouth appearance, especially when you open it.
Bridges restore the ability to speak properly.
Dental bridges maintain a normal facial structure.
Dental bridges can ensure a seamless chewing experience.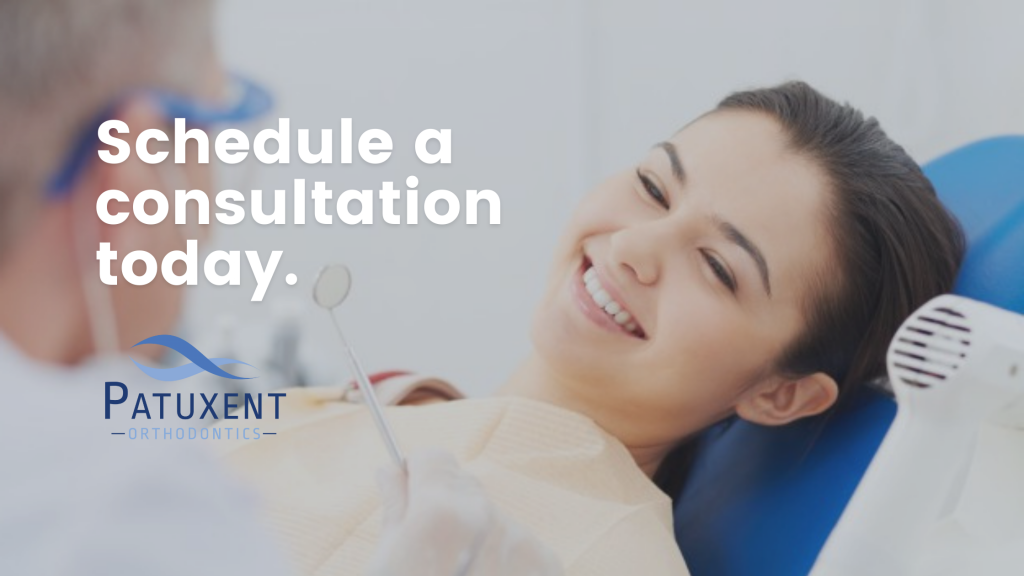 Choose Patuxent Orthodontics for Your Orthodontic Treatment!
Here at Patuxent Orthodontics, your perfect smile is our chief concern, and we want to make sure that your teeth straightening experience is as pleasant as you deserve. So, are you ready to regain your healthy teeth and perfect smile with us? Make sure that you schedule a complimentary consultation at Patuxent Orthodontics in Hollywood, MD and check out our blog!