Every brace can be customized to match your unique personality, with countless colors and color combinations to choose from! With Christmas just around the corner, it's the perfect time to choose a brace that celebrates the holidays with fun colors. So what are some of the available colors this holiday season, and how do you choose them? You can make that choice with the help of Patuxent Orthodontics!
How Do I Choose Between Different Colors for Braces?
You can choose a single color or a combination of colors for your braces. Regardless of your chosen color, there's sure to be one that expresses your personality and highlights your smile. In fact, it can even be overwhelming to choose from the impressive array of brace colors and color combinations available! You can, however, decide which colors are right for you by taking practical considerations into account.
Your braces can match your clothes or complement your complexion. For example, darker, muted, and more vibrant colors tend to complement lighter skin tones. Braces can also be customized to match the color of your eyes!
Braces with light colors or yellow hues may appear like stains against the teeth from a distance. Therefore, you should avoid dark colors such as brown and black because they can look like discolorations or stains on your teeth. In addition, pale braces colors such as white and yellow can easily stain with food and drink. 
You can choose a fun combination of braces colors during your next orthodontic appointment! If you're unsatisfied with your choice or only want a temporary color combination, you won't be stuck with the same colors for more than a month. There are many ways to express the spirit of the holiday season without committing to red and green year-round! 
What Braces Colors Do Children and Teenagers Prefer?
Younger braces wearers can choose vibrant, brightly colored braces. Teenagers and children look best in shades of pink, purple, and blue. 
Children can also combine different colors, so they don't have to pick only one. Braces that feature a child's favorite colors are a great choice! 
What Braces Colors Do Adults Prefer?
Choosing neutral-colored braces to boast more of a professional look is a great idea for adults. A single-color brace typically looks more professional than a multicolored one. Consider braces colors that match your clothing as well. For example, you will look better in navy or deep green than magenta if you wear a dark suit to work.
What are the Most Popular Colors for Braces?
Seeing some of the most popular colors might give you ideas about which color best represents your personality. For example, guys generally prefer darker colors, while girls prefer lighter ones. 
The Trendiest Color Combinations for Guys
Dark braces and neutral colors look better on men and boys. Deep green and navy blue are popular colors. Especially for people with darker skin tones, saturated colors like turquoise or bright red are a solid choice. Overly dark tones, however, may look like stains or tooth decay. You should avoid brown and black colors if you want to brighten your smile. 
The Trendiest Color Combinations for Girls
Lighter, more vibrant colors are preferred by women and girls when choosing braces. Shades of purple and violet are traditionally feminine colors that are visually appealing. Pink in pastel shades is the perfect choice for a soft, pastel look, and pink in brighter shades is the perfect choice for an impactful, bright look. You can achieve an ethereal look with light blue. 
The Ideal Color Combination for the Christmas Season
Many different color combinations of braces are perfect for the Christmas season. There are options other than red and green during the holiday season for those who want to spread the joy of Christmas with festive colors! 
The traditional colors of Christmas are red and green, which conjure up images of green trees, warm fireplaces, and piles of presents. They are also some of the most recognizable and popular colors during the Christmas season. Red and green might be your merriest choice regarding braces that are clearly linked to the holidays. 
There is also a festive connotation to red and white. As a result, they create a bright, cheery contrast similar to Santa's traditional attire. You can also pair white with green for a look that evokes snowy Christmas trees! 
If you want to highlight the colors of bright Christmas ornaments and gleaming ribbons, gold and silver are bold choices. Mix gold or silver with green or red for a less traditional but festive look. 
What Rubber Band Colors Pair the Best With Christmas Braces?
Braces aren't the only way to express yourself. You can complement your Christmas braces with matching rubber bands! 
If you're committed to the Christmas color scheme, you can choose red or green rubber bands to match your red and green braces. Bright red looks great with a deep green shade. A silver or gold band can look good with gold and silver braces or other color schemes. Matching rubber bands in white, red, or both colors are a great choice if you choose white and red braces. Choosing a rubber band color is up to you, so pick one that lets you express holiday cheer! 
What are the Ideal Braces Colors for the Holiday Season?
A fun color combination for your braces isn't just for Christmas. Many different holidays are celebrated with festive braces and rubber bands! 
Silver and blue or blue and white are two color combinations traditionally associated with Hanukkah. In addition to expressing observance of this holiday, you can also use these color combinations to express the holiday season in general. Winter colors like light blue and silver and blue and white can subtly blend with others. 
For New Year's Eve, silver and gold or silver and white braces are great options. It is possible to use this color combination in a more neutral way as well. The season can be celebrated without alluding to any particular holiday with color combinations such as white and silver, silver and gold, or white and blue. Likewise, it is possible to match winter colors with seasonal clothing without demonstrating observance of any particular holiday. 
Other holidays can be celebrated with braces as well. Halloween is a great time to wear orange braces and glow-in-the-dark rubber bands. You can even choose colors that match your Halloween costume!
Wearing braces opens a world of possibilities for displaying festive spirit and holiday cheer! Choose a color or combination of colors associated with a holiday, and look forward to spreading joy with your new smile!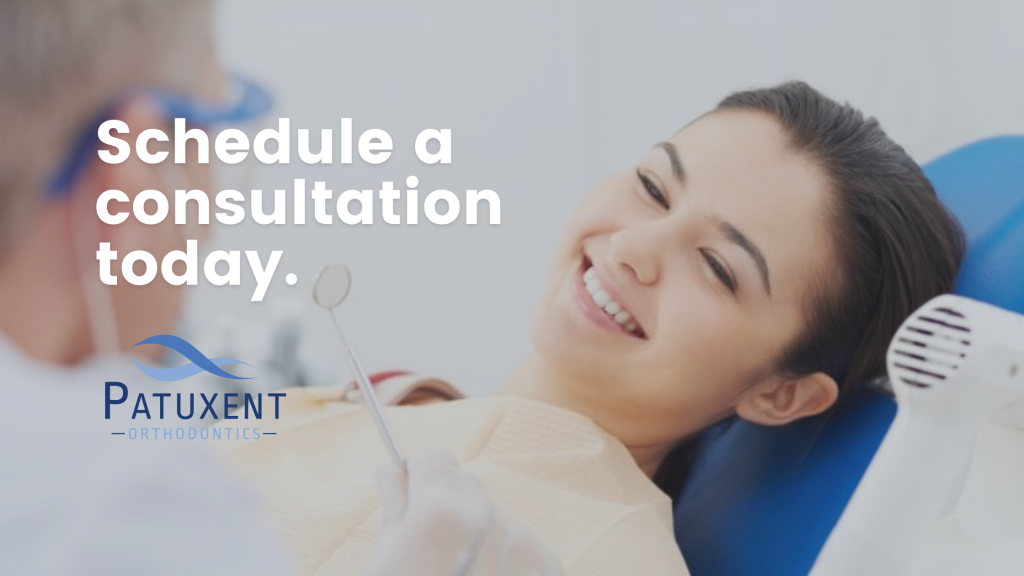 Start Your Orthodontic Treatment at Patuxent Orthodontics!
Contact Patuxent Orthodontics if braces are the solution to your dental woes. Whether you want to learn more about the benefits of braces or simply have questions about the process, use our live chat or call (240) 802-7217 or send us a message through our contact us page to connect with our friendly staff today and book a free consultation! Our office, located at 44220 Airport View Dr., Hollywood, MD 20636, proudly serves Maryland's Patuxent area, as well as the Greater Washington DC area. So, if you're residing in California, Lexington Park, and Great Mills and are looking for one of the best orthodontists in MD, don't hesitate to visit our office! We also invite you to keep up with our blog to get answers to many of the frequently asked questions about maintaining sparkling oral health and follow us on Facebook and Instagram to become a part of our smiling community!
References
Kishore, Pallab. "Best Braces Color Combinations [for Seasons & Holidays]." Orthodontic Braces Care, 10 Nov. 2021, orthodonticbracescare.com/best-braces-color-combinations-for-seasons-and-holidays/#Christmas_day. Accessed 22 Feb. 2023.

Orthografton. "Braces Rubber Band Color Combinations for the Holidays! L Dr. Alkhoury." Simply Orthodontics Blog, 14 Sept. 2021, www.simplyorthografton.com/blog/2021/09/14/colors-of-rubber-bands-for-braces-to-try-for-the-holidays/. Accessed 22 Feb. 2023.

"Braces Colors: How to Pick the Best Colors for Your Braces." Diomondbraces-Navigation, diamondbraces.com/braces/braces-color/. Accessed 22 Feb. 2023.

"Popular Holiday Colors for Your Brace Bands – Johnson & Collins." Johnson & Collins Orthodontics, 23 Dec. 2019, www.johnsoncollinsortho.com/event/popular-holiday-colors-for-your-brace-bands/. Accessed 22 Feb. 2023.