Braces can be bulky, painful, and challenging to clean; that's why so many orthodontic patients look forward to the day when it's time to remove them. However, it is essential to remember that orthodontic treatment doesn't end with the brace removal; dentists often prescribe retainers to keep the teeth aligned post-braces. Retainers come with their own set of problems, though: they're unwieldy, unsightly, and prone to interfere with speech. As for removable retainers, they can be lost, broken, or forgotten. 
We're not surprised our patients want comprehensive solutions. A great option for patients looking for a simple yet durable solution to tooth movement is permanent or bonded lingual retainers, which we offer here at Patuxent Orthodontics. 
So, how do you know if permanent or bonded retainers are the right choice for you?
What is a Bonded Lingual Retainer?
The bonded lingual retainer is an active orthodontic treatment consisting of a thin metal wire attached to the teeth. It is also known as a fixed lingual retainer, permanent retainer, or lingual wire. Bonded lingual retainers are known for securing the lower teeth in place, but orthodontists can also use them to align the top teeth. 
In order to attach a permanent retainer to the teeth, bonding material made of dental resin is applied to the inner side of the tooth (or lingual surface). A retainer is securely attached once the bonding material has been set. 
What is the Purpose of a Permanent Retainer?
With permanent retainers, patients can prevent their teeth from reverting to their original positions after removing their braces. By holding the teeth in place, they maintain the desired shape of the periodontal ligament. It is usually recommended that they remain in place for at least a year after braces are removed, but they may last for much longer. 
Will My Permanent Retainer Be Visible?
Because bonded lingual retainers don't show from the front, they won't alter your smile as much as braces do. You may even forget that the thin wire attached to your teeth is there!
Are Lingual Retainers Permanent?
There is no guarantee that lingual retainers will stay in your mouth forever, even though they are a permanent form of retainer. Lingual retainers are designed to hold the teeth in their proper alignment and can be removed once the teeth have reached the desired position. 
Because only an orthodontist can adequately remove them, bonded lingual retainers are known as permanent retainers. It is, therefore, advisable to leave them in your mouth until your orthodontist determines there is a low risk of your periodontal ligament relapsing. Orthodontists recommend fixed retainers be worn for a minimum of one year, but if properly cared for, they can last for more than a decade. 
Are Bonded Lingual Retainers the Right Pick for Me?
In order to use a bonded retainer, you must first finish your orthodontic treatment. A bonded retainer cannot replace braces. Instead, they prevent teeth from moving out of their ideal position after braces are removed. As a result, braces patients are not eligible for fixed retainers. In addition, oral hygiene compliance, dental health, and age may affect eligibility.
Using a bonded lingual retainer is recommended if you need help remembering when to wear or remove a removable retainer or if your routine makes it difficult to maintain removable retainers. Unlike removable retainers, permanent retainers stay in your mouth until your teeth are correctly aligned, so they are ideal for patients with difficulty adhering to their schedules.
Bonded Retainers: Pros and Cons
Bonded lingual retainers have both positives and negatives. A good understanding of the pros and cons of permanent retainers and other orthodontic retainers can help you decide which is right for you. 
Fixed retainers have the following potential downsides: 
Maintaining good oral health

requires proper care

and cleaning of bonded lingual retainers. Plaque can accumulate if they are not cleaned regularly. 

Permanent retainers can also make flossing difficult. 

The wire portion of a bonded retainer can break or bend if certain foods are eaten. Patients with bonded retainers

should avoid sticky or crunchy foods

. 

Some patients may need a removable retainer to maintain their back teeth's position while sleeping.
Permanent retainers, however, boast numerous benefits:
Unlike removable retainers, bonded lingual retainers cannot be misplaced or forgotten. 

Bonded retainers

do not interfere

with speech. 

Because it is attached to the back of the teeth, a permanent retainer is

invisible

. 

Because bonded retainers are designed to last for years with minimal maintenance, their

overall cost

is low.
How Much Do Permanent Retainers Cost?
Bonded lingual retainers cost between $150 and $500 per wire. It might cost you around $1000 if you need bonded retainers for both your upper and lower teeth. Despite the steep price, bonded retainers can last for a decade or more if properly maintained! 
The overall cost of bonded lingual retainers can vary based on how well they are cared for. If your retainer breaks, orthodontists will charge for its repair. Additionally, you may need to schedule regular checkups with your dentist to ensure that your permanent retainers are doing their job.  
How Do I Clean My Bonded Retainer?
Bonded retainers must be cleaned regularly and carefully to prevent food scraps and plaque from accumulating. There is also a higher risk of gum disease caused by improper cleaning. 
Proper oral hygiene requires brushing and flossing, but the presence of a permanent retainer makes them a bit more challenging. You can, however, use a floss threader to reach underneath the wire and prevent food from accumulating. 
Here's how to use a floss threader: 
Run the floss threader under the wire between the teeth and thread the floss through the threader. 

Gently run the wire along the sides of the tooth and repeat the process for each tooth connected to the wire. 
Brushing and flossing should be combined with floss threaders to maintain a healthy mouth. Cleaning the teeth with a Waterpik or other device may also reduce the risk of damaging lingual retainers.
It would be best to visit your dentist every six months to keep your retainer and teeth clean.
Keeping Your Bonded Lingual Retainer Intact
Keeping your permanent retainer intact is as simple as watching what and how you eat. Do not bite directly into foods with hard, crunchy, or sticky textures, especially if you have a lingual retainer affixed to your upper teeth. Some crunchy foods can loosen bonded lingual retainers, including apples and carrots. Chewy foods can also damage permanent retainers like pizza crust.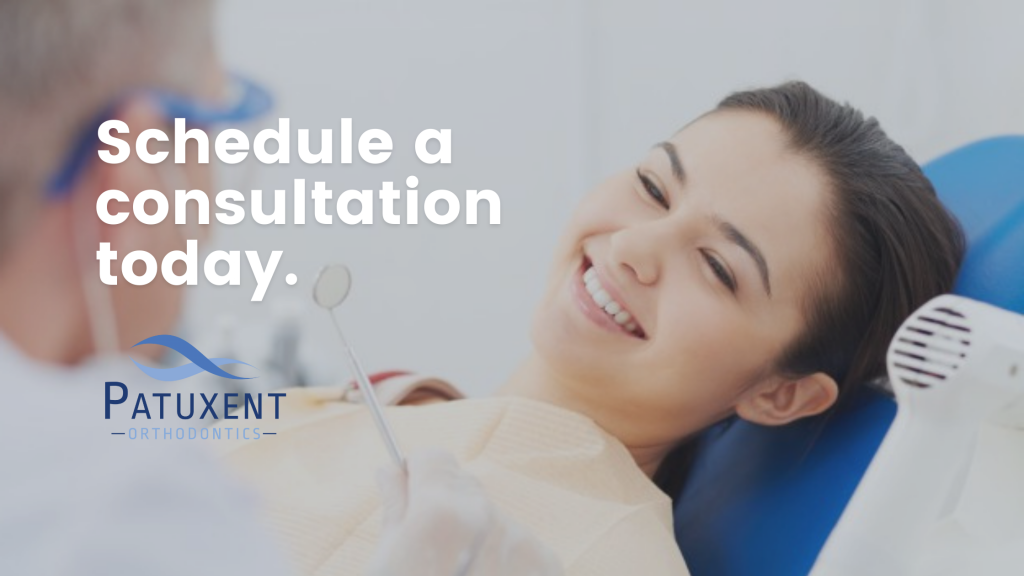 Start Your Orthodontic Treatment Today at Patuxent Orthodontics!
Contact Patuxent Orthodontics if bonded lingual retainers are the solution to your dental woes. Whether you want to learn more about the benefits of bonded lingual retainers or have questions about the process, use our live chat or call (240) 802-7217 or send us a message through our contact us page to connect with our friendly staff today and book a free orthodontic consultation! Our office, located at 44220 Airport View Dr., Hollywood, MD 20636, proudly serves Maryland's Patuxent area, as well as the Greater Washington DC area. So, if you're residing in Hollywood, Wildewood, or Leonardtown and are looking for one of the best orthodontists in Maryland, don't hesitate to visit our office! We also invite you to keep up with our blog to get answers to many of the frequently asked questions about maintaining sparkling oral health and follow us on Facebook and Instagram to become a part of our smiling community!
References
"Bonded Retainers." Bonded Retainers – Pros and Cons, www.deardoctor.com/inside-the-magazine/issue-33/bonded-retainers/. Accessed 18 Jan. 2023.
"Retainer Types: Bonded, Hawley, ESSIX, and Clear Retainers." Healthline, Healthline Media, 29 May 2018, www.healthline.com/health/retainer-types#bonded-retainers. Accessed 18 Jan. 2023.
Higuera, Valencia. "Permanent Retainers: Pros, Cons, Costs, and vs. Removable." Healthline, Healthline Media, 20 Dec. 2019, www.healthline.com/health/permanent-retainer#about. Accessed 18 Jan. 2023.
Alexa Rose, Contributors:  Amanda Napitu &, et al. "Permanent Retainer vs Removable: Pros, Cons and Cost." Dentaly.Org, www.dentaly.org/us/adult-braces/teeth-retainers/permanent-retainer/#How_much_do_permanent_retainers_cost. Accessed 18 Jan. 2023.