"Look! Grandpa's teeth fell out again! Ewww!!!" False teeth wearers dread these words at social gatherings. Nobody wants to worry about losing their teeth on holidays, birthdays, anniversaries, retirement parties, or at any gathering at all. Unfortunately, dentures with traditional clasps are prone to this kind of dental mishap, which is unavoidable.
Fortunately, there is an alternative! People who need secure replacement teeth can benefit from snap-in dentures. Find out if you are a good candidate for mandibular implant-supported overdentures by reading more about snap-in dentures!
What are Snap-in Dentures?
Snap-in dentures are a more secure option than traditional dentures. They are also known as implant-retained dentures or implant-supported overdentures because they attach firmly to remaining teeth and dental implants. Unlike conventional dentures, snap-in dentures are attached to orthodontic implants rather than a mold made from your mouth.
How Do Snap-in Dentures Work?
Dentures are supported by dental implants, which act like posts surgically and strategically placed in the jaw. Once the posts have been placed, the implant-supported dentures can be 'snapped' into place. The posts or implants are permanent fixtures within the mouth as opposed to snap-in dentures, which can be removed.
Occasionally, magnetic metal plates are placed over the gum line to aid in the attachment of dental implants. Snap-in dentures are then able to bind to metal plate implants to facilitate their retention. Sometimes, dental implants are bonded with snap-in dentures using small magnetic connections.
How Do Snap-in Dentures Differ from Conventional Dentures?
One of the most noticeable differences between snap-in and conventional dentures is their ability to be removed at will. It is easy to remove snap-in dentures. Unlike conventional dentures, though, they won't fall out during dinner!
Am I among the Ideal Snap-in Denture Patients?
Although snap-in dentures and dental implants have recently become increasingly popular for many patients, they are not suitable for everyone. You may be able to benefit from implant-supported overdentures if you have missing teeth due to injury, dental cavities, congenital disorders, or periodontal disease.
What is the Average Snap-in Denture Cost?
Investing in dentures is a serious investment in your oral health. Depending on your dentist, you can expect to pay approximately $6,000 for both the implant and implant retained dentures. The cost of removable implant dentures may increase depending on your specific circumstances and the number of implants you need. Snap-in dentures are more cost-effective than implant-retained overdentures, as long as your insurance covers them. 
How Long Do Snap-in Dentures Last?
You should see your dentist regularly after getting implant-supported dentures. As with natural teeth, snap-in dentures wear out over time. Furthermore, the jawbone and mouth change shape over time, which leads to ill-fitting dentures and the need for more implants. According to the British Columbia Dental Association, a complete denture is generally expected to last between five and ten years, while according to the European Federation of Periodontology, 95% of overdentures supported by implants last at least five years. 
What are the Pros of Snap-in Dentures?
Traditional dentures reduce the force exerted while biting by lessening the jawbone pressure. This process, however, reduces your ability to chew certain foods, lowers your nutritional intake, and eventually erodes your jawbone.
Conversely, dentures that snap in and dental implants that integrate into the biting action give you superhuman biting power! According to researchers, those with an implanted denture can bite 300% greater than those with a traditional denture. It's pretty amazing! 
Like conventional dentures, snap-in dentures can be easily removed for cleaning and are more stable than conventional dentures. However, unlike conventional complete dentures, these chomping teeth won't move during an exhilarating meal or conversation!
Additionally, snap-in dentures allow you to be more comfortable and relaxed in social situations due to their increased stability. Rather than constantly worrying about dental embarrassment, you can smile confidently, knowing that your teeth are safe and under control.
What are the Cons of Snap-in Dentures?
Despite the amazing benefits of snap-in dentures and dental implants, there are also some drawbacks. For example, for a denture implant to be fitted into the jawbone, the jawbone must have the capacity to support it. In some cases, the jaw bone is not strong enough for the required dental implant due to the shape of the mouth or erosion of the bone.
An orthodontic procedure under anesthesia is required to set a denture implant. If you have a medical history that makes such a procedure unsafe, implant dentures may not be an option for you. Regular dentures are a much better option if this is the case.
As with any other procedure, you will have to deal with discomfort during recovery. Thankfully, there are rarely any serious side effects associated with the surgery, and most people recover within a few days.
Can You Sleep with Your Snap-in Dentures On?
Wearing dentures while sleeping is not recommended for optimal oral health, as your gums need to breathe and air out after a long day. In addition, having your gums constantly covered by hard acrylic can cause them to become swollen, infected, and sore, and in extreme cases, even cause your bone to shrink. Therefore, you should remove your dentures before sleeping at night. To maintain optimal health, you must clean your implant dentures and your mouth every night.
Your snap-in dentures need to be cleaned and maintained daily, just like your natural teeth. Brush your snap-in dentures with a soft-bristled toothbrush before you go to bed. Next, clean your new teeth with unscented antibacterial soap and water to remove any food particles or debris. Your dentures will not snap correctly into your implants if debris is on them. After cleaning, make sure your snap-in dentures are kept in a water-filled denture box overnight.
How to Care for Your Snap-in Denture
Care for your snap-in dentures properly; they will last longer before they wear out, warp, or break.
Using your fingers, push your snap-in denture into place along your mouth's arch after placing it in your mouth. Check to see if the o-rings (i.e., rubber washers) align with your dental implants, and then wiggle it back and forth until they do. You should hear a snap when the two parts are aligned and secure. Once the dentures are in place, tug on them to ensure they have "snapped in" correctly. To ensure that your bite fits properly, close your teeth together. In this final step, if something seems off, your snap-in dentures are not correctly attached.
Do not bite down on your snap-in denture to find the right position since the process can warp the rubber washers or wear down other parts. A snap-in denture is made from acrylic, so it can be broken by applying too much force. Be patient and careful when inserting your snap-in denture.
The 'gentle formula' denture-cleaning tablets can be used once or twice a week to remove any bacteria that may have been missed during scrubbing. It would help if you didn't do this too often, however, as it can shorten the o-ring's lifespan. These steps will ensure that your snap-in dentures last as long as possible!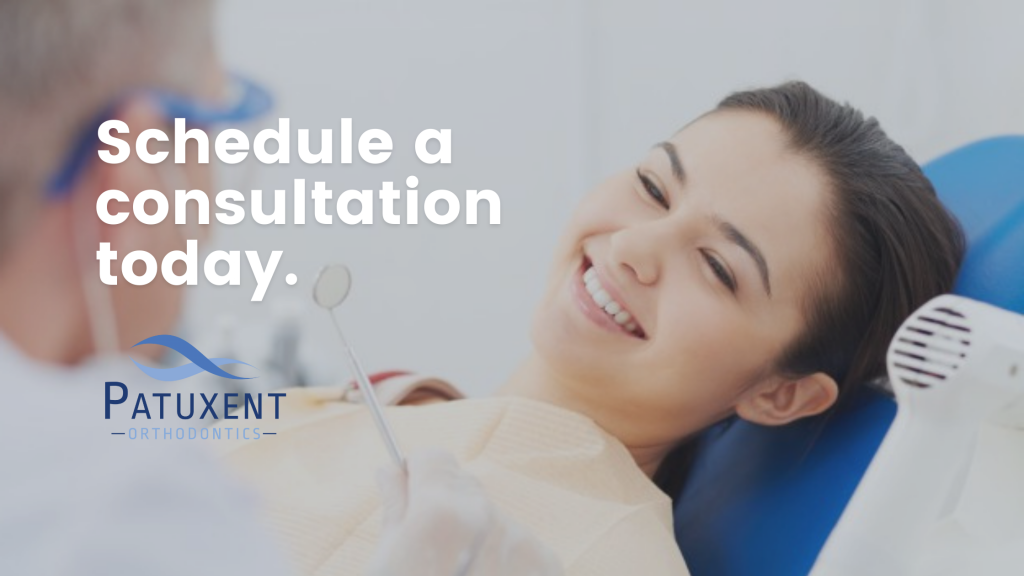 Start Your Orthodontic Journey at Patuxent Orthodontics!
Contact Patuxent Orthodontics if you think that snap-in dentures may be a solution to your dental woes. Whether you want to learn more about the benefits of snap-in dentures or simply have questions about the process, use our live chat or call (240) 802-7217 or send us a message through our contact us page to connect with our friendly staff today to book a free consultation! Our office, located at 44220 Airport View Dr., Hollywood, MD 20636, proudly serves Maryland's Patuxent area, as well as the Greater Washington DC area. So, if you're residing in California, Lexington Park, and Great Mills and are looking for one of the best orthodontists in MD, don't hesitate to visit our office! We also invite you to keep up with our blog to get answers to many of the frequently asked questions about maintaining sparkling oral health and follow us on social media to become a part of our smiling community!