Dentists and orthodontists are both doctors of oral health. Are they the same? In general, no, although there are some overlaps. The first specializes in general dentistry, while the second practices a particular aspect of dentistry. Orthodontists and dentists go through different types of training.
Dentists are typically thought of as general practitioners, who look after your overall dental health.
Although they can provide some orthodontic services, it is not their specialty.
Orthodontists specialize in one field of dentistry. They provide a variety of general dental care, however, they concentrate exclusively on orthodontics.
We will now take a closer look at the similarities and differences between orthodontics and dentistry. By clarifying what to expect from a general dentist and what to expect from your orthodontist, we hope to alleviate any confusion you may have.
What Makes a Dentist Or an Orthodontist?
The following statistics provide some insight into the profession of dentistry:
● In general, 80% of dentists practice general dentistry.
● The American Dental Association recognizes close to 20% of dentists as specialists.
● Approximately 6% become orthodontists.
● There are nearly 70 accredited dental schools in the United States.
A wide range of specialties exists within dentistry, including orthodontics, which focuses on aligning teeth and jaws, creating a bite that functions effectively, and creating an attractive smile. Among the other specialties within dentistry are:
● Endodontist (root canals);
● Periodontist (gum disease);
● Pediatric dentist (treating children);
● Oral and maxillofacial surgeon (face, mouth, and jaw);
From undergraduate education through dental school, orthodontists and dentists receive the same education. A dentist may become both a specialist and a generalist by earning a dental degree and completing rigorous training.
Dentistry School for Dentists
Dentists begin to dip their toes in their careers with a pre-dentistry or pre-medical degree. Afterward, they complete a four-year dental school program. Classes and clinical experiences take up the first half
of dental school. During the subsequent two years, students begin working with patients in a supervised setting. After finishing their residency, students can apply to become certified dentists. To become a dentist, you must pass both the written National Dental Examination and a clinical licensing exam. After earning the degree, they are entitled to the title Doctor of Dental Surgery (DDS) or Doctor of Medicine in Dentistry (DMD).
Dentistry School for Orthodontists
Both dentists and orthodontists receive the same education and degrees. They are distinguished by the additional training they receive in their specialty after dental school. It requires approximately 4,800 hours of training to complete an orthodontic residency program that lasts two to three years. A specialty certification of orthodontics is awarded upon completion.
What Do Dentists and Orthodontists Do?
Dentists and Oral Health
Dental general practitioners are your family doctor, the doctors who take care of your teeth. Preventive maintenance is performed by your dentist during your semi-annual visits – routine examinations, X-rays, cleaning (by the hygienist), and so on. The dentist diagnoses and treats dental problems. A dentist may repair, replace, or extract your damaged teeth, treat gum disease, and whiten your teeth if they are discolored. More severe problems may be referred to specialists such as orthodontists. Dentists are responsible for the general health of the mouth and teeth. You receive treatment from a specialist for the duration of your condition. You receive lifelong treatment from a general dentist.
Orthodontists and Oral Health
Orthodontists specialize in aligning teeth and jaws. An orthodontist will examine your teeth if they're pointing in the wrong direction or too crowded as these pose a threat to your otherwise healthy mouth. In order to correct alignment problems, orthodontists use a number of techniques and appliances.
Generally, orthodontists diagnose and treat misaligned teeth and jaws. Orthodontists use braces, retainers, clear aligners, and other appliances to move teeth and jaws into more advantageous positions. Among the many popular treatments over the past few years is the Invisalign® system of clear aligners. These custom-designed plastic aligners replace metal braces for patients. In addition to being more comfortable, they are an advanced way of shifting teeth into healthier positions.
With Invisalign, the success of the treatment is largely determined by the aligners, with each set of two corresponding to the gradual movements of the teeth as well as an exact, snug fit against the teeth throughout.
When it comes to dentists and orthodontists, Invisalign should involve the specialist, the orthodontist. This professional is trained and certified by the manufacturers of Invisalign and can determine whether this would be the most effective treatment option for you.
Dentist vs. Orthodontist vs. Oral Surgeon: What's The Difference?
Let's clarify one more thing while we're at it. Oral surgeons are different from dentists and orthodontists in that they specialize in surgery. The education they receive through dental school is the same, but they have a four-year residency program at a hospital accredited by the American Dental Association. As part of their training and practice, they work on the jaws, mouth, and facial bones and tissues. Surgical procedures are performed to repair damage or deformities, reconstruct bones, and enhance appearance.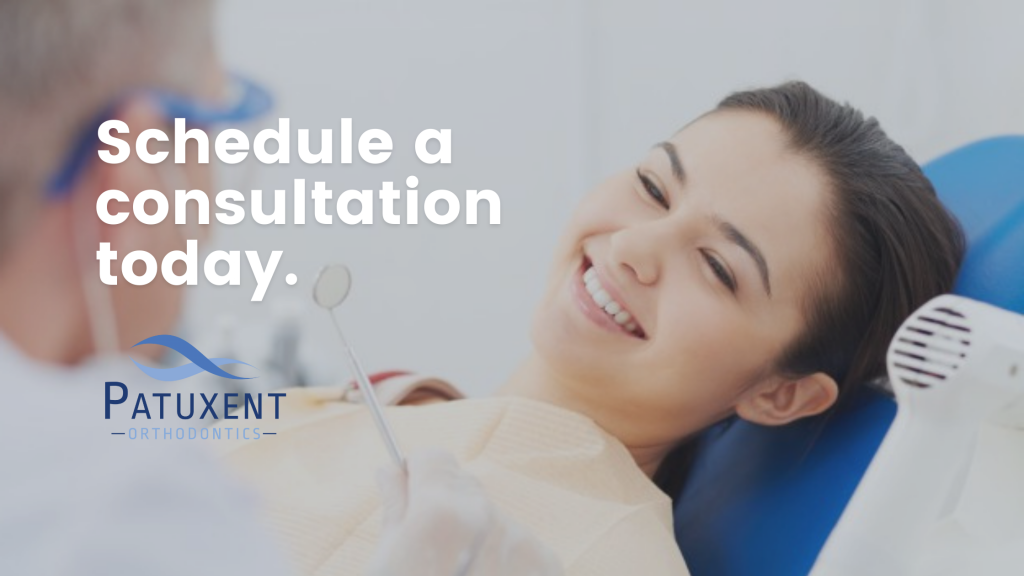 Start Your Orthodontic Treatment at Patuxent Orthodontics Today!
There are many branches of dentistry, like many other professions. Consider general dentistry as the trunk of a tree. Dental school is required for everyone, specialists included. General dentists usually stop there and become the family dentist we should all see at least every six months. Doctors of this profession conduct regular check-ups and cleanings, which are the foundation of their profession. They also treat damaged teeth and treat gum disease when necessary.
Dental specialists make up the branches of the tree. An orthodontist specializes in aligning teeth and jaws in one branch of the profession. An orthodontist corrects overcrowding, ineffective bites, and any misalignment. In these orthodontic treatments, the teeth and jaw are moved into healthier and more effective positions using appliances (e.g., braces and clear aligners).
Contact Patuxent Orthodontics if you think that treating alignment issues may be a solution to your dental woes.  Whether you want to learn more about the benefits of treating alignment issues or simply have questions about the process, use our live chat or call (240) 802-7217 or send us a message through our Contact Us page to connect with our friendly staff today to book a free consultation! Our office, located at 44220 Airport View Dr., Hollywood, MD 20636, proudly serves Maryland's Patuxent area, as well as the Greater Washington DC area. So, if you're residing in Hollywood, Wildewood, or Leonardtown and are looking for one of the best orthodontists in Maryland, don't hesitate to visit our office! We also invite you to keep up with our blog to get answers to many of the frequently asked questions about maintaining sparkling oral health as well as follow us on social media to become a part of our smiling community!
References
Watson, Kathryn. "Orthodontist vs. Dentist: What Do They Do and How Are They Different?" Healthline, Healthline Media, 30 Mar. 2020, www.healthline.com/health/orthodontist-vs-dentist. Accessed 25 Jul. 2022.

"Dental Education." Dental Education | American Dental Association, www.ada.org/resources/research/health-policy-institute/dental-education. Accessed 25 Jul. 2022.

Orthodontist vs. Dentist: Who Should You See? | Colgate®, www.colgate.com/en-us/oral-health/adult-orthodontics/orthodontist-vs-dentist-who-should-you-see. Accessed 25 Jul. 2022.