Although a common orthodontic condition, a moderate and severe overbite can lead to several oral health problems. If left untreated, deep bites can cause persistent jaw pain and even disrupt sleep. Most importantly, they cause wear and damage to the upper and lower teeth due to the pressure exerted on each other. 
Fortunately, a bite ramp can help you bite properly and fix problems with jaw alignment. So, what are bite ramps and how do bite ramps work on aligners? 
What Exactly is a Bite Ramp?
Bite ramps are small orthodontic appliances that attach to the back of the upper front teeth or, in some cases, to the posterior teeth. Typically, they are connected directly to the top incisors and worn with braces. Invisalign or SPARK aligners can also be attached directly to them by orthodontists. When attached, bite ramps prevent patients from fully biting down. 
Orthodontists often use bite ramps to correct deep bites, but they can fix other bite issues, as well. Patients wear them until the misalignment at the root of a deep bite is corrected.
How Do Bite Ramps Work on Your Teeth?
Bite ramps correct overbite and other bite issues by slowly aligning your teeth. Typically, they are placed on the upper front teeth. Once the bite ramps are attached, patients are forced to bite down correctly since they prevent the front teeth from closing completely. 
As soon as the bite ramps are installed, the posterior teeth will not meet. Instead, the jaw will move back into its proper position over time as the pressure decreases, the front teeth will move backward, and the posterior teeth will begin to drift closer to each other. Upon achieving correct jaw alignment, the posterior teeth will once again be able to touch. 
Consult your orthodontist if your back teeth touch while you wear newly installed ramps. It is imperative that bite ramps apply enough pressure to keep the back teeth apart. 
Will Bite Ramps Be Painful?
There is some initial discomfort associated with bite ramps, but it gradually disappears within a week or two. It is also common for irritation and chewing issues to disappear once the teeth and jaws are aligned correctly. It is easy for patients to treat this temporary discomfort with over-the-counter pain medications. A few weeks of discomfort are well worth the final results of bite ramps, which can correct orthodontic problems requiring much more extensive treatments in the long term. 
Do Invisalign Bite Ramps Treat a Severe Deep Bite?
Invisalign bite ramps are an excellent treatment option for severe deep bites. Invisible retainers work by moving teeth back into their proper position. A discreet alternative to braces, they provide the same results! 
A deep bite can sometimes be corrected by moving the teeth back into alignment. Patients with misaligned teeth may benefit from pushing them back into their proper positions if misaligned teeth cause their deep bite. This is the reason why not all clear aligners come with bite ramps.  
Many patients require orthodontic appliances that apply pressure to their jaw to achieve correct alignment. Clear aligner bite ramps are sometimes recommended by orthodontists in such situations. A bite ramp is molded directly into the back of one of the clear Invisalign aligners. Designed specifically for each patient, they are custom-positioned and tailored to their needs. Although not all clear aligners come with bite ramps, they are recommended for people with severe deep bites. 
To fully understand why your orthodontist might recommend bite ramps, you should understand what causes your deep bite.
What Causes a Deep Bite?
Deep bites are severe forms of overbite. In this condition, the top teeth overlap the lower front teeth by more than four millimeters. The anterior teeth can be damaged over time as a result. 
A variety of factors can cause deep bites. Misaligned jaws can result in a deep bite due to genetic factors. Broken, missing, or crowded teeth can also force the upper and lower teeth to fit incorrectly, resulting in a severe deep bite. It is also possible to develop this orthodontic condition due to habits such as grinding teeth. Orthodontists recommend bite ramps to treat deep bites because they can contribute to jaw pain and other medical conditions. 
Do All Patients Qualify for Bite Ramps?
It is only necessary to add bite ramps to an aligner if you have a deep overbite. An orthodontist using X-rays can determine the need for a bite ramp. 
Some patients have only a mild deep bite, in which the top teeth overlap the lower teeth by about two millimeters. Clear aligners can often solve bite issues without using bite ramps as they move the teeth back into proper alignment. Orthodontists only consider bite ramps when dealing with moderate to severe deep bites. 
Your orthodontist can determine if you should include bite ramps in your treatment plan. Generally, a slight overbite does not require treatment, but a moderate deep bite may require bite ramps. 
Bite Ramps are Now Available for SPARK Aligners, Too!
Here at Patuxent Orthodontics, SPARK aligners have become our clear aligner of choice. Deep bites can also be corrected with Invisalign aligners. While they are not as common as traditional bite ramps, they do have some advantages. Aside from being highly customizable, SPARK aligners also feature an impressive bite ramp. A customized bite ramp is included in each SPARK aligner in order to apply pressure in the most effective way to fix deep bites! 
As a result of their customizability, SPARK aligners provide both maximum effectiveness and comfort to patients. The material is molded closely to the surface of each tooth, resulting in a product that fits snugly over your teeth with a few sharp edges. Those who struggle with discomfort and irritation while wearing orthodontic appliances will benefit significantly from SPARK aligners. Ask your orthodontist about SPARK aligners if you need bite ramps to correct a deep overbite but are worried about how they will feel!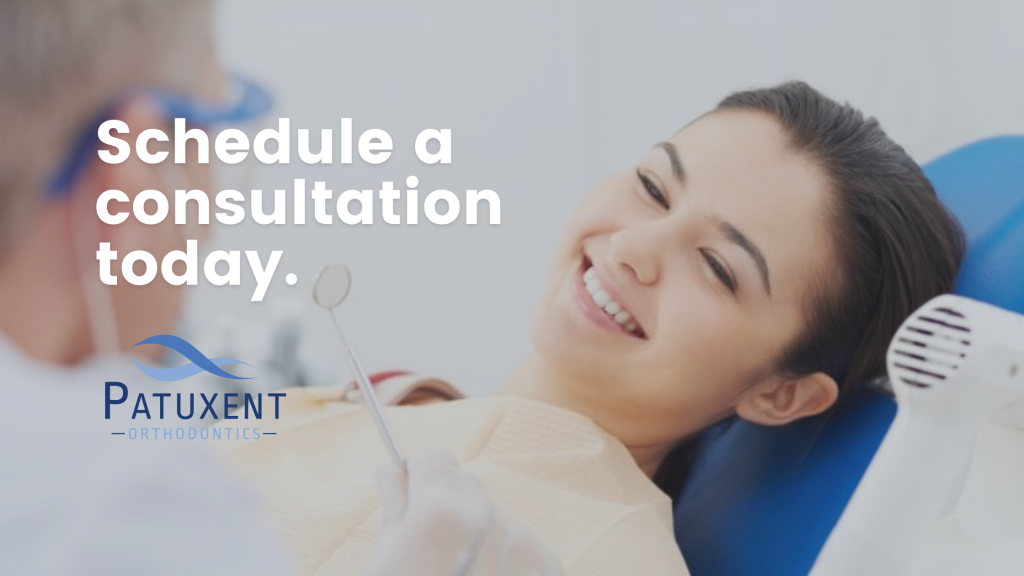 Let Patuxent Orthodontics Help You With Your Deep Bite Correction!
Contact Patuxent Orthodontics if bite ramps are the solution to your dental woes. Whether you want to learn more about the benefits of bite ramps or have questions about the process, use our live chat or call (240) 802-7217 or send us a message through our Contact Us page to connect with our friendly staff today and book a complimentary orthodontic consultation! Our office, located at 44220 Airport View Dr., Hollywood, MD 20636, proudly serves Maryland's Patuxent area, as well as the Greater Washington DC area. So, if you're residing in Hollywood, Wildewood, or Leonardtown and are looking for one of the best orthodontists in Maryland, don't hesitate to visit our office! We also invite you to keep up with our blog to get answers to many of the frequently asked questions about maintaining sparkling oral health and follow us on Facebook and Instagram to become a part of our smiling community!
References
"Bite Ramps: Facts about Invisalign's Tool to Fix Deep Bites." Hodges Orthodontics, hodgesorthodontics.com/braces-information/invisalign-bite-ramps/. Accessed 1 Feb. 2023.

Ivanov, Dr. Pavel. "Bite Turbos: How Long Do Turbos Last Braces." Ivanov Orthodontic Experts, Ivanov Orthodontic Experts, ivanovortho.com/orthodontic-bite-turbos/. Accessed 1 Feb. 2023.

"Can Invisaligns Have Bite Ramps?: Kumra Orthodontics." Kumraortho, 30 Jan. 2023, kumraortho.com/blog/invisalign-bite-ramps/. Accessed 1 Feb. 2023.

Radtkekm. "Invisalign Bite Ramps. Is This Normal?" RealSelf.Com, 12 June 2012, www.realself.com/question/invisalign-bite-ramps. Accessed 1 Feb. 2023.