The desire to have straighter teeth is universal, especially nowadays, when a straight smile is considered a beauty necessity. When you wear a perfect smile, you feel confident and proud of yourself. However, the benefits of braces go beyond cosmetics. In addition to aligning your jaw, braces can reduce the symptoms of various oral disorders, such as TMJ. 
Braces are mostly worn from a young age once the baby teeth have fallen out and most adult teeth have grown in. The best time to correct crooked teeth and other oral health complications is during childhood when children's teeth and jaws are still malleable. A significant reason to get braces when young is that adult braces cost much more without financial assistance or dental insurance. The cost of braces should undoubtedly be considered before choosing the best option for your case. Here are some factors that affect the cost of braces that you may find helpful.
Braces Cost: What Factors Influence It?
Many factors affect the cost of braces. The cost of adult braces is higher than that of children's braces because of insurance coverage and the time it takes to achieve the desired results. Depending on your location, the braces' material, and the severity of the orthodontic treatment, you can expect to pay between $3,000 and $10,000. A rural orthodontic provider usually charges less than one located in a larger city. In the same way, certain states have more expensive orthodontists than others. 
Braces are also priced according to the length of time patients must wear them. In addition, orthodontic patients must schedule regular check-ups with their orthodontist in order to maintain and tighten their braces. As a result, braces may cost more or less depending on how many trips to the office are required. 
The Average Cost of Braces for Patients without Dental or Orthodontic Insurance
Getting comprehensive orthodontic treatment, including braces, without dental insurance can be expensive. It is important to note, however, that braces are often price-dependent based on their type: 
Self-ligating braces
Ceramic braces
Metal braces
#1: Lingual Braces
In contrast to traditional braces, lingual braces are attached to the backside of your teeth rather than the front. Lingual braces are the most expensive type of braces, costing between $5,000 and $13,000. 
#2: Self-Ligating Braces
Self-ligating braces are very similar to traditional metal braces but use a built-in system to secure the archwire to the brackets. Unlike traditional braces, which use tiny elastic bands or metal ties, self-ligating braces are applied to the brackets to hold the archwire in place. Because self-ligating braces allow for shorter orthodontist visits, easier cleaning, and slightly less discomfort, they are a bit more expensive, averaging around $5,500. 
#3: Traditional and Ceramic Braces
Metal braces are the most common braces, which slowly realign teeth with brackets and wire. The most noticeable braces are traditional metal braces, which are generally the least expensive. 
One major difference between traditional and ceramic braces is that the material is less noticeable. Without orthodontic insurance, standard and ceramic options cost between $5,000 and $6,000. 
#4: Clear Aligners
Clear aligners are a discreet teeth-straightening option. As with other types of braces, clear aligners gently straighten teeth by applying constant pressure while being easily removable for eating or brushing your teeth. As a result of these added benefits, these aligners are more expensive, ranging from $4,000 to $7,000. 
How About Medicaid Coverage for Braces Treatment?
Medicaid coverage varies from state to state, but there are some minimum standards set by the federal government. Children must be covered for the following, for example: 
Pain and infection relief through dental treatment
Restorative dentistry
Orthodontic treatment that is medically necessary (including braces)
Medicaid can cover braces for adults if the treatment is deemed medically necessary. Visit the Medicaid website to learn more about dental coverage in your state.
Average Costs for Braces With Insurance Coverage
You may be able to get braces covered by your dental plan and health insurance provider. Despite most health plans not covering orthodontic treatment for adults over 18, they may cover kids' braces. For those without orthodontic coverage in their dental or health insurance plan, supplemental orthodontic insurance may be an option. In most cases, insurance covers up to 50% of a child's braces cost. In addition, it may be possible for some insurance plans to cover all or part of the cost of braces if they are medically necessary. 
A separate dental insurance plan increases the likelihood of your braces being covered by insurance. On average, a traditional metal brace cost $3,407 for patients with insurance coverage in 2017. In addition, following the removal of braces, prescription products, including anti-cavity fluoride rinse, may also be covered by dental insurance plans. 
Can I Deduct My Orthodontic Treatment Expenses without an Insurance Plan?
In the absence of insurance, what are your options? Tax deductions are available if your braces are considered medically necessary. You must, however, have your costs exceed a certain amount in order to qualify for a deduction. Keep track of all expenses, including co-pays and check-ups, since these small payments can add up over time.
Since braces are an expensive investment, you may want to consider the following payment options: 
Flexible Spending Account
Health Savings Account
Dental Discount Plans;
Personal loans or credit cards
Orthodontist-offered payment plans
Orthodontic care may be reimbursed if your health insurance includes a Flexible Spending Account (FSA). It may also be possible for you to pay into your FSA tax-free if your employer offers such a benefit. In addition, those who have high-deductible health insurance plans may be eligible for a Health Savings Account (HSA). Tax-free investments are available through HSAs, which can be used for most medical and dental expenses.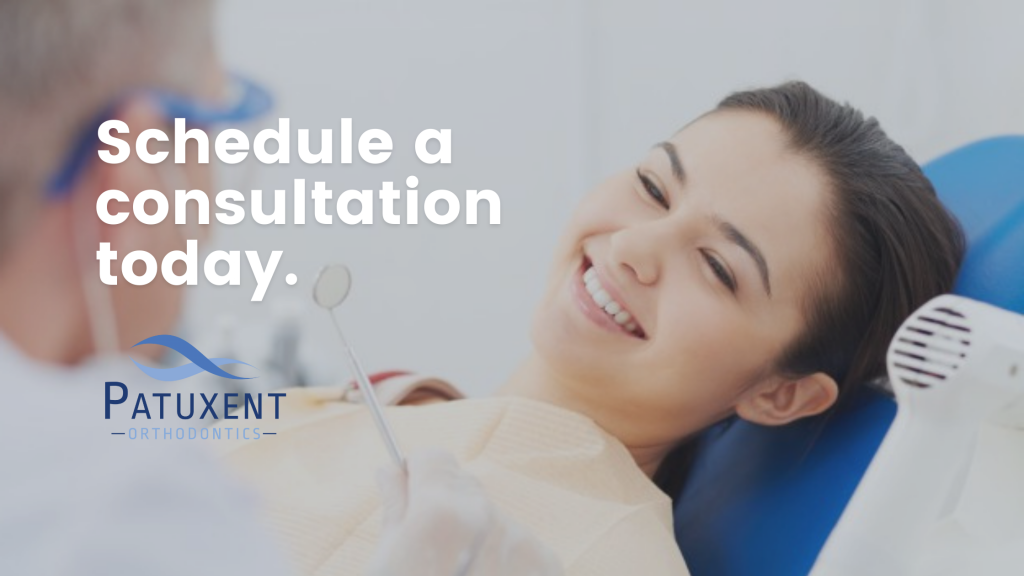 Get More Information About Orthodontic Treatments at Patuxent Orthodontics!
Contact Patuxent Orthodontics if you think orthodontic treatment may be the solution to your dental woes. Whether you want to learn more about the benefits of orthodontic treatment or simply have questions about the process, use our live chat or call (240) 802-7217 or send us a message through our Contact Us page to connect with our friendly staff today to book a free consultation! Our office, located at 44220 Airport View Dr., Hollywood, MD 20636, proudly serves Maryland's Patuxent area, as well as the Greater Washington DC area. So, if you're residing in California, Lexington Park, and Great Mills and are looking for one of the best orthodontists in MD, don't hesitate to visit our office! We also invite you to keep up with our blog to get answers to many of the frequently asked questions about maintaining sparkling oral health and follow us on social media to become a part of our smiling community!
References
Yetman, Daniel. "Average Cost of Braces: Age, Type, Insurance, Other Factors." Healthline, Healthline Media, 1 Apr. 2021, www.healthline.com/health/average-cost-of-braces#cost-without-insurance. Accessed 12 Sep. 2022.

"How Much Are Braces with Insurance?" Oral Health and Dental Care, www.colgate.com/en-us/oral-health/adult-orthodontics/how-much-are-braces-with-insurance. Accessed 12 Sept. 2022.

"State Profiles." Medicaid, www.medicaid.gov/state-overviews/state-profiles/index.html. Accessed 12 Sept. 2022.