An orthodontist just examined you after encountering minor crowding issues and slight rotation in a few teeth. The situation isn't severe, but they recommend braces as the most straightforward solution for your dental woes. The first thought that enters your mind when you hear that you will have to wear braces for a couple of years is, "I'm 35. Am I really going to have to run around with a mouth full of metal braces?"
Thanks to technological advances, there is a much more appealing alternative to metal braces — clear aligners! Since your condition is relatively mild, there is a 'lite' version of that alternative — the Invisalign® system and its Invisalign® Express version! Find out what Invisalign Express can accomplish and when it can be more effective for a patient's orthodontic needs than the complete Invisalign system.
What Is Invisalign®?
Unlike visible brackets and wires, the Invisalign system uses transparent, hard plastic trays called aligners to gradually reposition your teeth. When you have to present at work, it is undoubtedly better to wear the trays than wire braces, since they are almost invisible.
As part of the Invisalign system, you will receive a set of custom-molded trays that fit your upper and lower teeth exactly. The aligner trays can sometimes be outfitted with various attachments to help coax teeth into the correct position. The average patient wears them for 22 hours per day. Unlike braces, aligners can be removed for eating and cleaning during the remaining two hours of the day.
You will change your aligners every week or two, according to your orthodontist's instructions, based on how far you have moved your teeth. Your teeth will be moved from A to B by the first set, then from B to C by the second, and so on, until you reach their ideal position at the finish line!
Depending on the severity of your teeth's original condition, you'll wear the aligners for 12 to 18 months. Once you've worn the last set, your teeth will be where they need to be, and you'll be able to smile with greater confidence! 
What Is the Invisalign Express Treatment?
Correcting complicated dental problems is possible with Invisalign. However, what should you do if your teeth's condition is relatively mild? A dentist may recommend Invisalign Express in this situation. 
Invisalign Express involves the same process and appliances as the complete Invisalign treatment but with fewer aligners to move your teeth. Here, the runners in the relay race are short-distance sprinters instead of the complete system's middle- or long-distance runners.  
With Invisalign Express, you can move your teeth with fewer aligners than with the full version of the Invisalign system. 
What Is Invisalign Express Used For? 
Invisalign Express aligners are not recommended for heavy-duty tooth correction. Instead, they are generally used for minor adjustments, such as moving a few teeth and rotating an individual tooth by a few degrees. Invisalign Express is sometimes used when teeth have relapsed after braces because a patient does not use their retainer consistently (i.e., orthodontic relapse). 
Invisalign Express comes in three options. The number of sets of aligners you get will depend on the condition of your teeth. You can get 5, 7, or 10 sets. With Invisalign Express, movement is so small that it's imperative to wear a retainer after treatment to maintain your new position.
What Are the Advantages of Invisalign Express?
Invisalign Express offers many of the same advantages as the complete Invisalign treatment. Their aesthetic appeal (almost unnoticeable), custom design, and removal for eating and cleaning make them a great alternative to traditional braces. In addition, they are more comfortable than metal braces because there are no sharp metal pieces to irritate the soft tissues inside your mouth.
With Invisalign Express, minor corrections can be made in less time and with fewer aligner sets!
How Long Does Invisalign Express Take?
It will take a few months for Invisalign Express to complete your treatment. Your teeth's condition determines the length of time it will take. You can ask your orthodontist for a more precise estimate, but it usually takes between 10 and 20 weeks.
Am I the Right Candidate for Invisalign Express?
What is the extent of your necessary correction? If you have mild crowding, spacing, or other issues that can be treated completely with no more than ten aligners, Invisalign Express is the right orthodontic treatment for you: 
Slight rotation;

Spacing of fewer than 2 millimeters; 

Crowding; 

Correction of midline; 

Expansion of fewer than 1.5 millimeters.
Using aligners may require an extraction or other additional treatment in some cases.
It may not be best for children to use Invisalign Express since it involves wearing removable aligners that can be damaged, lost, thrown away, or not worn enough each day. Additionally, a treatment that lasts only a few months may not be effective on a child's still-developing teeth. 
How Does Invisalign Express Differ From a Full Invisalign Treatment?
Invisalign Express differs from the complete Invisalign treatment in two primary ways: the number of aligners and the treatment time.
For a typical Invisalign treatment to be effective, 20 to 30 aligners are required, with more aligners needed in more severe cases. Most treatments last between 12 and 18 months but can sometimes last for three years. Depending on the complexity of your orthodontic treatment, your orthodontist may use a variety of Invisalign attachments to provide your aligners with additional pressure. To ensure everything is working according to plan, you will have periodic office visits during the treatment. 
The number of aligners sets you'll need to use with Invisalign Express depends on what corrections need to be made. Most orthodontic treatments last about six months, and your orthodontist won't use many attachments, as extra pressure is unlikely to be required. As a result, you'll need fewer office visits due to the shorter treatment. This makes Invisalign Express a much more affordable treatment.
| | | |
| --- | --- | --- |
| | Invisalign Express | Full Invisalign |
| Number of aligner sets  | 5 to 10 | 20 to 30 or more |
| Timeframe  | 6 months on average | 6 months to 3 years |
| Attachments  | Minimal use, if any | Button, elastic, expanders, etc., may be used. |
| Office visits | Fewer office visits | The amount of correction requires more office visits. |
| Cost  | $1,800 to $3,500 | $2,500 to $9,000 |
How Much Does Invisalign Express Cost?
Invisalign costs vary depending on several factors, as with most dental treatments. Because Invisalign Express requires less work, it is generally less expensive than traditional Invisalign. As shown in the chart above, Invisalign Express systems cost between $1,800 and $3,500.
The cost usually includes:
Aligner sets;

Digital X-rays;

3D imaging;

Orthodontic appointments;

Attachments, if needed;

Retainers.
Invisalign Express treatment costs are affected by several factors, including:
Geographic location

: For example, treatment in New York City is likely to be more expensive than service in a small Midwestern town.

The orthodontist

: The costs can vary depending on the reputation and experience of the doctor.

Your condition

: If complex and extensive corrections need to be made, the treatment will be more expensive.

Adjustments

: If your treatment is not progressing as expected, adjustments may be needed.

Retainer

: You will need a retainer to keep everything in place after treatment. Invisalign patients are often fitted with

Vivera Retainers

after treatment with Invisalign at Patuxent Orthodontics.

The treatment time

: Longer treatments require more aligners and office visits.
Is My Dental Insurance Going to Cover These Costs?
If you don't know what your policy covers, ask your provider. You may be able to receive partial coverage for Invisalign treatment if your insurance covers orthodontics. It is possible for clear aligners to be considered cosmetic, however, if the treatment is not extensive. In addition, Invisalign may be classified as an alternative or specialty and, therefore, not medically necessary. 
Your orthodontist may offer you other financing options. The office staff can recommend or provide you with payment plans.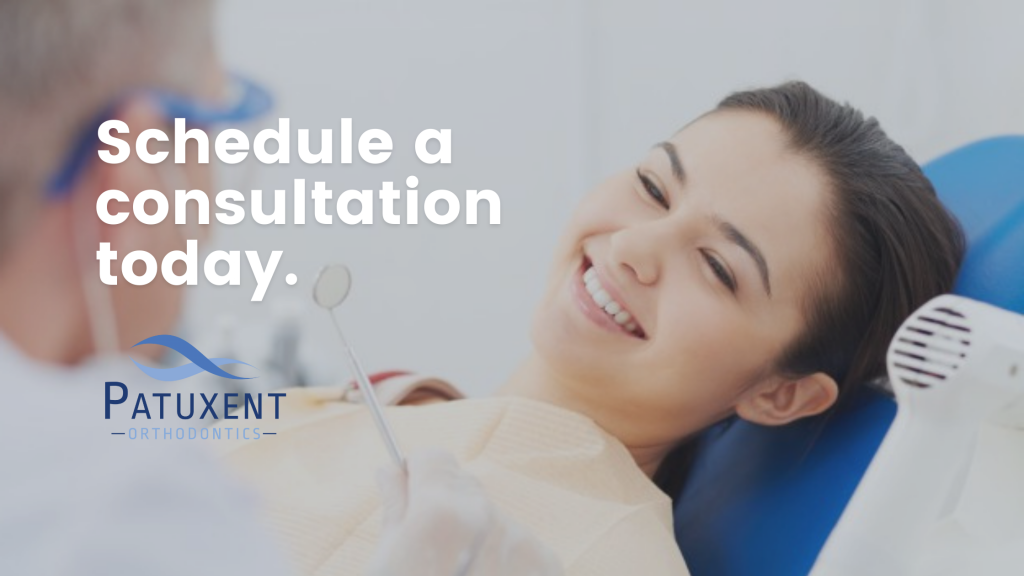 Start Your Orthodontic Treatment Today at Patuxent Orthodontics!
Contact Patuxent Orthodontics if clear aligners are the solution to your dental woes. Whether you want to learn more about the benefits of clear aligners or simply have questions about the process, use our live chat or call (240) 802-7217 or send us a message through our contact us page to connect with our friendly staff today and book a free consultation! Our office, located at 44220 Airport View Dr., Hollywood, MD 20636, proudly serves Maryland's Patuxent area, as well as the Greater Washington DC area. So, if you're residing in California, Lexington Park, and Great Mills and are looking for one of the best orthodontists in MD, don't hesitate to visit our office! We also invite you to keep up with our blog to get answers to many of the frequently asked questions about maintaining sparkling oral health and follow us on Facebook and Instagram to become a part of our smiling community!