People have worn braces for generations to correct both health and cosmetic dental issues. Approximately four million Americans wear braces today; the number doubled between 1980 and 2000.
The number of children who need braces is estimated at 50-70%, while the number of adults requiring braces is estimated at 20-30%. Nowadays, adults can straighten their teeth without wearing embarrassing wire braces thanks to teeth straightening systems like Invisalign and SPARK!
Patients of any age can benefit from braces and their alternative treatments. Having your teeth straightened and aligned not only boosts your confidence but also contributes to your overall health. Maintaining good oral hygiene and eating can be easier when teeth are corrected. In addition, gum disease and other problems can be drastically reduced when your teeth are easier to clean.
So, when is the right time to get braces?
Early Evaluation is Always the Best Course of Action
According to the American Association of Orthodontists, children should see an orthodontist at seven years of age. It is still early for braces since they won't have a full set of adult teeth. The back bite is usually present at this point, as they have their adult molars.
The adult teeth can grow abnormally if the baby teeth undergo tooth decay. Seven is the age when a dentist can detect and treat early signs of dental problems before they become severe. Especially if a child's teeth are protruding or crowded, their baby teeth are falling early, or they suffer from bite problems, early braces treatment may be necessary.
This early intervention can be used as the first stage of a two-phase orthodontic treatment. Wearing a retainer may be part of phase one, early treatment. After a few years, braces are applied. In the early stages of treatment, braces can move teeth into better positions more easily because some dental problems have already been addressed.
What's the Youngest Age to Get Braces?
Anyone with adult teeth can benefit from braces. About 11 to 14, when the adult teeth first erupt, but the bones are still growing and malleable, is the best age to fit braces. Moving teeth into new positions is easier because the jawbone has yet to fully develop.
At this age, the child's metabolism is fast, and they are old enough to brush, floss, and perform other dental treatments consistently once braces have been applied.
What's the Best Age to Get Braces?
When a child should be fitted with braces depends on their genetics — which determines when their adult teeth will emerge — and their existing dental problems. The age at which children get braces varies from child to child, but they generally should get braces between 11 and 14.
Your Child's Teeth Need Braces: Telltale Signs
You can watch for these signs to see if your child — or you — might need braces:
Too early or too late loss of baby teeth

Tooth crowding or crookedness

Having gaps between the teeth

Painful biting and chewing that is painful

Crossed bite

Sticking top teeth

Misaligned teeth

Clicking or locking of the jaws

Using the mouth to breathe

Sucking your thumbs

Jaw problems and pain

Crooked or non-growing teeth in adults
Misalignments, breathing problems, snoring, and difficulty eating and speaking may also occur.
What About Braces for Adults?
The number of children who need braces may reach 70%, but not all children get them. For some, braces may have been prohibitively expensive, while for others, regular dental care was not available. Whatever the case may be, some adults are hoping for a healthy, attractive smile! Fortunately, they can now get braces and dental care, such as through their employer's plan. 
Invisalign and SPARK systems are alternatives to traditional braces that appeal to adults. If you're 40 years old and have metal wires and brackets across your teeth, it's harder to be taken seriously at work.
Regardless of the type of braces adults use, they can achieve fantastic results, although it will take longer compared with adolescents. A 12-year-old's metabolism is different from that of most adults. Further, the jawbone has stopped growing, making it less pliable when teeth are shifting. A second condition, such as bone loss, may also require additional treatment. However, adults are also more mature and are capable of taking care of their teeth and receiving orthodontic treatment more easily.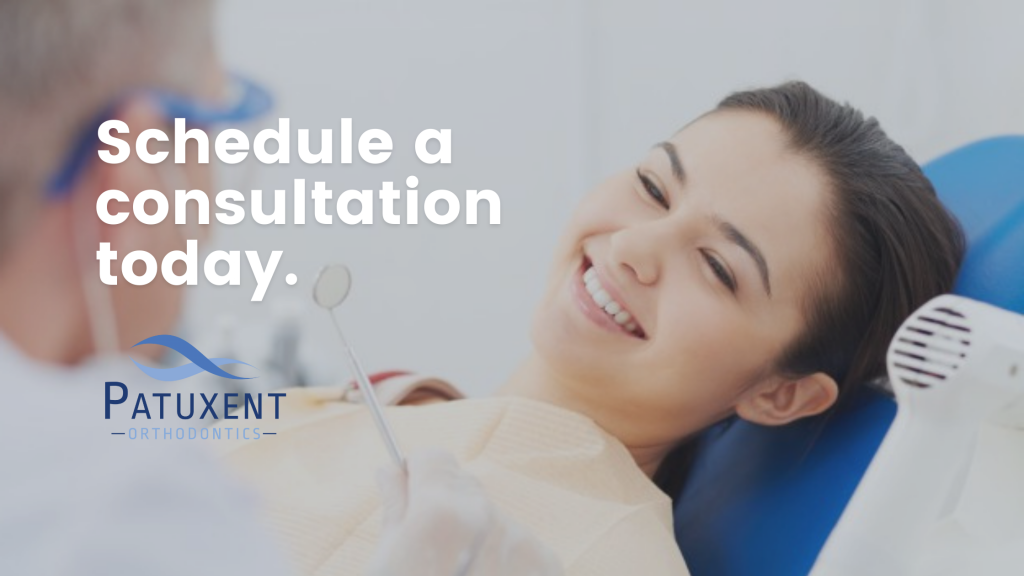 Start Your Orthodontic Treatment Today at Patuxent Orthodontics!
Contact Patuxent Orthodontics if braces are the solution to your dental woes. Whether you want to learn more about the benefits of braces or have questions about the process, use our live chat or call (240) 802-7217 or send us a message through our contact us page to connect with our friendly staff today and book a free orthodontic consultation! Our office, located at 44220 Airport View Dr., Hollywood, MD 20636, proudly serves Maryland's Patuxent area, as well as the Greater Washington DC area. So, if you're residing in Hollywood, Wildewood, or Leonardtown and are looking for one of the best orthodontists in Maryland, don't hesitate to visit our office! We also invite you to keep up with our blog to get answers to many of the frequently asked questions about maintaining sparkling oral health and follow us on Facebook and Instagram to become a part of our smiling community!
References
"What Is the Best Age to Get Braces?" Diomondbraces-Navigation, diamondbraces.com/braces/braces-age/. Accessed 12 Dec. 2022.