We often receive questions from patients who are happy with their glowing Invisalign results about the best way to clean their retainers. The Invisalign cleaning crystals can do most of the work for you once you figure out how to properly clean your Invisalign retainers with this easy, effective method. Nonetheless, you also need to know about the cleaners that you should never use on your Invisalign retainers! So, let's first talk about why keeping your Invisalign retainer clean is so important.
Invisalign Cleaner: Why You Should Use One
Invisalign cleaning crystals are designed to dissolve plaque, break down bacteria, and reduce discoloration and staining while you maintain your smile by faithfully wearing your retainer. As much work as it is to wear your retainer every single day to keep that perfect, radiant smile you've always wanted, the last thing you'd want is to risk decay and staining! Additionally, by cleaning your retainer with crystals, you can avoid embarrassing stains that would cause you to have an unattractive smile in public.
After your Invisalign treatment is complete, you may be required to wear your retainer for up to 22 hours a day to help stabilize your teeth's new alignment. All Invisalign cleaning crystals are made of entirely non-toxic, completely safe materials and have been specially formulated for use with Invisalign products. Keeping your Invisalign retainer clean is very important for the following reasons:
Food and debris can get trapped in your retainer.
Bacteria are attracted to food debris.
Plaque forms when bacteria accumulate on the teeth.
Cavities caused by plague may require treatment in the future.
By keeping your mouth free of bacteria, you can prevent tooth decay and gum disease.
Any teeth or gum issues could affect the duration of your Invisalign treatment. That leads us back to the question of how to use Invisalign cleaning crystals properly to clean an Invisalign retainer. Find out how to get a clean, crystal-clear mouth using the best Invisalign cleaner!
Using Invisalign Cleaning Crystals
Cleaning crystals with Invisalign are quite straightforward to use. We'll begin with a quick tip about using Invisalign crystals. To help maintain consistency, you should schedule your cleanings at the same time each day. By developing a cleaning routine, you will be more likely to maintain your Invisalign retainer in optimal condition. The following is a simple step-by-step guide on how to clean Invisalign aligners:
1. Use lukewarm water to gently rinse your retainers. You should only wash your retainer in lukewarm water because hot and cold water can cause the warping of thermoplastic materials. Use water that is as close as possible to room temperature. Running water is best since it gently pushes away debris.
2. Your Invisalign cleaning tub can be filled with warm water if you have one. A cup or bowl will do for those who don't have a cleaning tub. Put just enough water in the container to submerge the retainer.
3. While your retainer soaks, dump a packet of Invisalign cleaning crystals into the bathtub or cup.
4. Allow the retainer to soak for 15 minutes.
5. Wash your retainer with lukewarm water after removing it from the crystal solution.
6. With a wet toothbrush, gently brush your retainers to remove any lingering debris or particles.
7. Clean the retainer one last time by running it under warm water.
8. Voila – You're all set!
The Invisalign retainers need to be cleaned twice per day. The best times to clean your Invisalign retainers are in the morning and evening. Maintain a clean, bacteria-free environment for your retainer by regularly rinsing, wiping, and drying your retainer case.
Invisalign Retainer Cleaning Tips: What You Should Never Use
Invisalign retainers should never be cleaned with toothpaste. Because of its abrasive nature, toothpaste does not work as well as Invisalign cleaning crystals. Additionally, it's best to steer clear of colored or scented soaps to avoid discoloration of your retainer because they can leave grime and residue on your retainer and create lingering odors and tastes in your retainer. While mouthwash is safe to use when cleaning Invisalign retainers, it may not be efficient at reducing bacteria to prevent stains, odors, and tooth decay.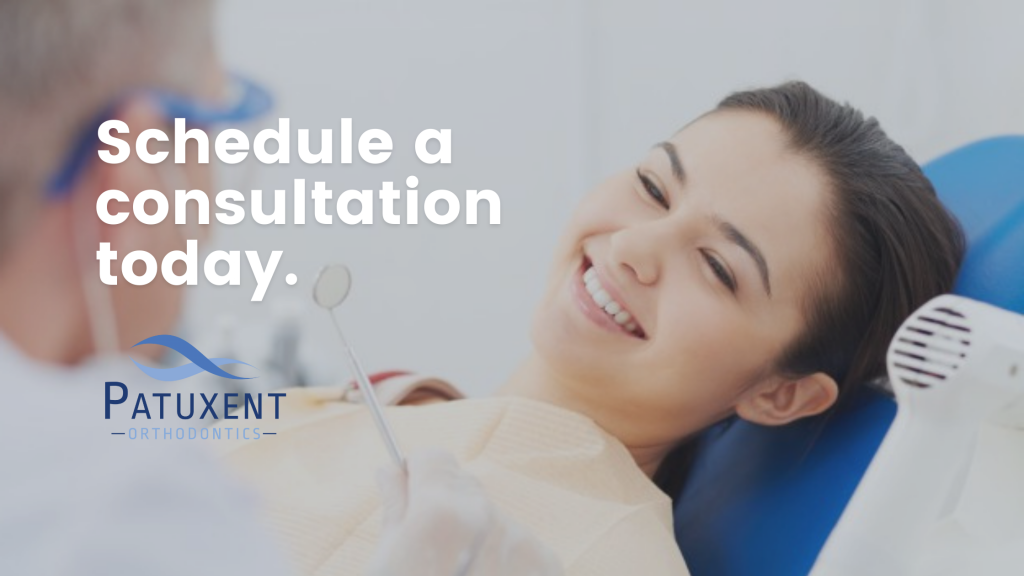 Choose Patuxent Orthodontics for Your Orthodontic Treatment!
Contact Patuxent Orthodontics if removable retainers is the way to achieve the perfect smile of your dreams! Whether you want to learn more about the benefits of our orthodontic services or simply have questions about the process, use our live chat or call (240) 802-7217 or send us a message through our contact us page to connect with our friendly staff today and book a free consultation! Our office, located at 44220 Airport View Dr., Hollywood, MD 20636, proudly serves Maryland's Patuxent area, as well as the Greater Washington DC area. So, if you're residing in California, Lexington Park, and Great Mills and are looking for one of the best orthodontists in MD, don't hesitate to visit our office! We also invite you to keep up with our blog to get answers to many of the frequently asked questions about maintaining sparkling oral health and follow us on Facebook and Instagram to become a part of our smiling community!