Finally, the time has come. As your teenager has outgrown their baby teeth, adult teeth are now causing havoc in their mouth. Consider getting braces with a board-certified orthodontist. Braces are an investment and a rite of passage.
But, what options does your teenager have for straightening their teeth, and how much do braces cost? Whether you're interested in lingual braces or metal braces, continue reading to learn which treatment plan is best for your teenager.
What's the Right Age for a Teenager to Start Their Orthodontic Treatment?
What is the difference between braces used as a teenager and as an adult in terms of improving your smile? The appropriate time to start wearing braces depends on your circumstances, but it is usually recommended to begin treatment early during adolescence due to several developmental changes that favor orthodontic treatment. Changes such as these include:
An adolescent's growth spurt
Dentition transitioning to adulthood
Skeletal jaw growth
Because of these reasons, braces work best between 12 and 15 years of age. However, it is important to note that some orthodontic problems, such as severe underbites, can make metal braces more challenging for teenagers to wear. Therefore, the best course of action may be to monitor rather than intervene until the child reaches their early 20s.
What Orthodontic Treatment Types are Available for Teenagers?
Depending on the patient's age, how effective are braces? Teenagers are perfect candidates for wearing braces due to the ease of repositioning their teeth and jaws while growing. However, as the face grows, it becomes more challenging to straighten permanent teeth, resulting in higher braces costs.
It is a well-known fact that metal braces are teenagers' most common orthodontic treatment. It is important to note, however, that there are a number of different kinds of braces, including:
Traditional metal braces
Ceramic braces
Lingual braces
Self-ligating braces
As each patient's situation differs, each option has pros and cons.
#1: Traditional Metal Braces
Metal braces, also known as conventional braces, are a tried-and-true option. Despite their long history, dental braces remain a popular method of straightening teeth and enhancing smiles. In addition to correcting a wide range of dental issues, including the alignment of teeth and jaws, modern braces have become more discreet.
A temporary anchorage device can also be added to metal braces in order to accelerate tooth movement or as an alternative to headgear. Additionally, metal braces are the least expensive teeth braces on the market.
#2: Ceramic Braces
In comparison to traditional braces, ceramic braces differ in one major way: they mimic the color of natural teeth instead of metal brackets. Ceramic braces add an extra element of invisibility along with the same beloved benefits of metal braces. However, they require a little extra attention and good oral hygiene since certain foods can stain them.
#3: Lingual Braces
Compared to metal braces, lingual braces attach to the backside of your teeth instead of the front, making them invisible. Unfortunately, the added benefit of invisibility comes at a cost, as lingual braces are the most expensive of all braces.
#4: Self-Ligating Braces
Although they look like traditional ones, self-ligating braces feature a built-in system to secure the archwire directly to the brackets. Therefore, there are no metal ties or tiny elastic bands, unlike standard metal braces. Rather than tie the archwire to the brackets, self-ligating braces keep the archwire in place, making orthodontist visits shorter, cleaning easier, and discomfort lessened.
#5: Invisalign Clear Aligners
Invisalign braces are virtually invisible and are one of the most discreet options for straightening teeth. Your orthodontist creates a custom-fit tray based on a 3D image of your teeth to slowly realign and position them correctly. Those who play sports or don't want to give up their favorite sticky foods typically use removable plastic braces.
The Benefits of Starting Your Orthodontic Treatment Early
As a teen, you have several advantages over waiting until adulthood to get braces. Besides regular cleanings and exams, teenagers generally do not require additional dental services. Therefore, they typically pay less for treatment.
#1: An Improvement in Your Social Life
Even though braces can sometimes be embarrassing in and of themselves, future crooked teeth can be even worse. Throughout history, straight teeth have been considered essential to American beauty standards. Your teenager may be able to improve their social and personal life by getting dental braces as early as possible. Being confident in your appearance and exhibiting a smile with straight teeth can boost your self-esteem.
#2: Correcting Dental Alignment Issues
In addition to improving your dental health, braces are also good for cosmetics! With braces, you can avoid future jaw or tooth problems since misaligned jaws can cause uneven wear on your teeth and force your jaw to overwork when chewing. Your teeth can look and work better for years after braces are removed if you maintain good dental hygiene during and after the treatment.
#3: Fewer Chewing Issues
Braces improve a misaligned bite, making it easier to chew food. Orthodontics, which increases jaw mobility, can also help your teenager avoid a lifetime of headaches and pain from misaligned bites.
#4: Superior Oral Health
Tooth decay, gum disease, and other oral injuries are less likely to happen with straighter teeth. Future injuries can have a devastating effect on your pocket and make you feel uncomfortable for years to come.
#5: Improved Tooth Protection
It is common for teenagers with irregular bite patterns to experience uneven stress or impact on certain teeth, which causes them to wear out rapidly. With braces, you can straighten your bite pattern and ensure that the impact is even across your teeth. Thus, certain teeth do not wear out faster than others through overuse. With this process, teeth are better protected and can last longer without unnecessary maintenance.
What's the Average Cost of Braces for a Teenager?
How much do braces cost, and are they worth it? Depending on your location, the material of the braces, your dental or orthodontic insurance, and the severity of the treatment, the cost of braces for teenagers may vary. Considering these factors, braces cost, on average, between $3,000 and $10,000.
You can expect to pay on average $3,407 out of pocket for traditional braces and subsequent braces costs with a dental insurance plan.
Lingual braces, or invisible braces, are the most expensive, costing between $5,000 and $13,000 depending on your dental insurance coverage. In some dental insurance plans, braces are covered for all ages, whereas in others, only teenagers are covered for braces.
Although some braces cost the same as a healthy investment, there are other options available, including:
Dental insurance
A flexible spending account
A health savings account
Dental discount plans
Personal loans
Orthodontist-offered payment plans to help parents afford their teenager's oral treatment
In most cases, dental insurance covers part of the braces cost, especially for teenagers. However, the decision to pay more for straighter teeth and an aligned bite is up to each family's discretion and circumstances.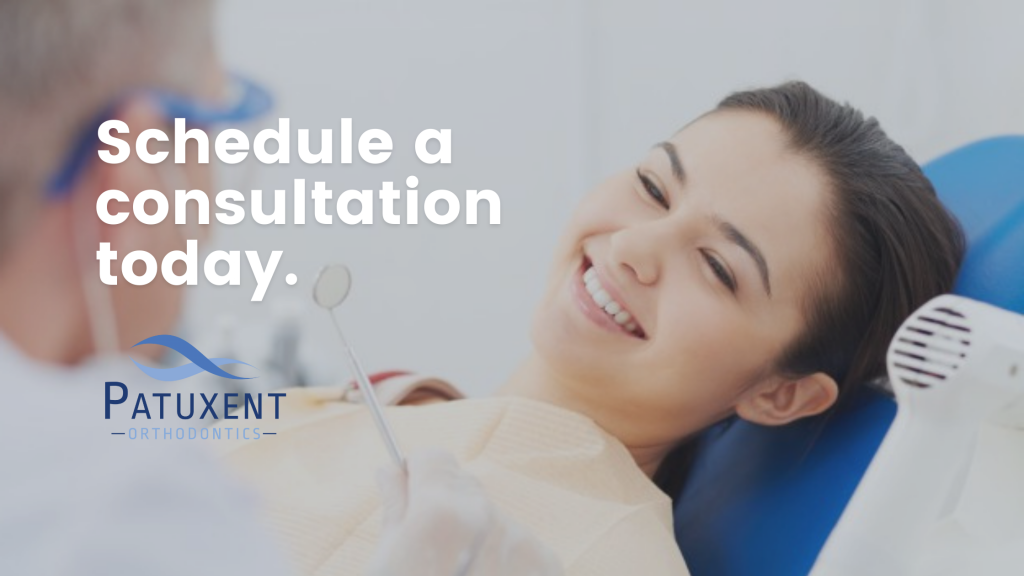 Start Your Comprehensive Orthodontic Treatment at Patuxent Orthodontics!
Contact Patuxent Orthodontics if you think that braces may be a solution to your teenager's dental woes. Whether you want to learn more about the benefits of braces or simply have questions about the process, use our live chat or call (240) 802-7217 or send us a message through our Contact Us page to connect with our friendly staff today to book a free consultation! Our office, located at 44220 Airport View Dr., Hollywood, MD 20636, proudly serves Maryland's Patuxent area, as well as the Greater Washington DC area. So, if you're residing in Hollywood, Wildewood, or Leonardtown and are looking for one of the best orthodontists in Maryland, don't hesitate to visit our office! We also invite you to keep up with our blog to get answers to many of the frequently asked questions about maintaining sparkling oral health and follow us on social media to become a part of our smiling community!
References
Yetman, Daniel. "Average Cost of Braces: Age, Type, Insurance, Other Factors." Healthline, Healthline Media, 1 Apr. 2021, www.healthline.com/health/average-cost-of-braces#cost-with-insurance. Accessed 19 Oct. 2022.